Let me pose a question to you. Why would you want to create video? This question isn't aimed at those who are creating videos all day long as professional videographers. I'm asking photographers, designers and hobbyists. Sure, you've heard about the HDSLR revolution, the fact that just about any camera (including cell phone cameras) can now shoot HD video. Maybe it's an unused feature for you. Maybe you have even fired off a few shots with mixed results. Maybe you have even edited a couple in iMovie. But why do you need to care about video? What's the fuss all about? Let me tell
you my thoughts on this by sharing a true story from my past.
During 1993 I was working as a print designer and photographer. I was doing alright, enjoying my work and then I started hearing about this internet thing. I just figured if I ignored it, it would go away. After all, this wasn't new, I'd been on BBS boards and it's only a handful of computer geeks like me. The average person won't care.
Guess what? I quickly realized that it wasn't going away and perhaps it would be a good idea to learn this stuff. I got a head start with HTML and started building web pages where there were few of them and the WC3 hadn't even been formed yet.
As things progressed this gave me a huge leg up in the industry. I found myself landing jobs from the likes of Microsoft and Hollywood film and record studios. I was making really good money and in demand. Some of my friends who didn't embrace the internet found their work drying up. People wanted a one-stop-shop that was able to give them a website as well as branding and design. I felt for my friends who were really good print designers, but just weren't getting work anymore. Many of them took the plunge and learned web, those who didn't are now working in another industry.
What has all this got to do with video?
I believe we are at that crossroad again. If you are photographer and think that you can just take photos forever and ignore video, you might be in for a nasty shock as more clients are demanding video interviews along with their corporate headshots. Brides and grooms are wanting a little video of their engagement sessions and wedding. People want a one-stop-shop
Designers don't get off either, because more design is shifting to apps and interactive content that requires video. What about the ever upcoming e-paper? Don't you think that movement and video will be in demand?
Ok, here is the good news. If you are able to deliver video, this skill-set will open the door for up-selling and just maybe, the opportunity to work with bigger and better clients. You could land bigger and more jobs, because you have an in-demand skill. This is the opportunity for you to get in on the ground floor of the digital video revolution.
Now let me ask you the same question again. Why would you want to create video? Or better still why not?
I think I know the why not. Because it's too complicated and difficult to learn.
This doesn't have to be the case. In fact you could be shooting and editing video by the weekend!
I have a couple of resources that I want to share with you. It's ok, don't feel like I'm selling you, because I still think you should learn this stuff wherever you choose to learn it. its important.
First of all, you may be aware that I haven't written a book in a few years. It's so much easier for me to make videos, and the market is so flooded with Photoshop books, who needs yet another Photoshop book?
New Book
Then the opportunity came for me to write the type of book that would actually help people. What about a straight-to-the-point book for people who know nothing about video. Meet photographers and designers exactly where they are at today. Then using plain English and building on the knowledge they already acquired, show them exactly what to do, to edit and deliver pro quality video using nothing but Adobe Photoshop, a program that is already used by everyone.
I did exactly that, and I'm proud to present my newest book,
"Video In Photoshop for Photographers and Designers"
Check it out here, read a free chapter and save 35%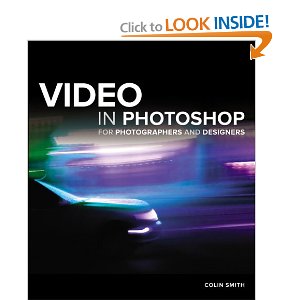 Download a free chapter and see an example of a video you'll create.
Video in Photoshop for Photographers and Designers
Video based learning
For those who prefer to learn by video, I did an entire class on video in Photoshop and it was a surprise hit on my recent 15 city USA tour. See what people said about the video portion.
"… I really was not interested in the video or the 3D part of the workshop, but I am now. Amazing how much I learned in one day! Thank-you." Bobbi Feasel
"The information and lessons were very informative. The range of topics covered were vast. Colin's knowledge is fantastic, he could not be stumped by any question. I would like more tutorials on making videos and animation in Photoshop." Angie Baxter
Click here to see more on the Video.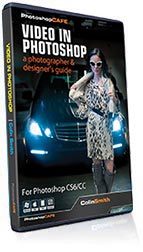 We also have some other resources at PhotoshopCAFE such as the wonderful video by Rick Sammon and Juan Pons.
This video will teach you the basics of shooting digital video on your camera, no matter what it is. (I know it says 5D MkII, but the focus is on principles and applies to any camera.
We are doing this for half off at $24.99 (Save $24.99)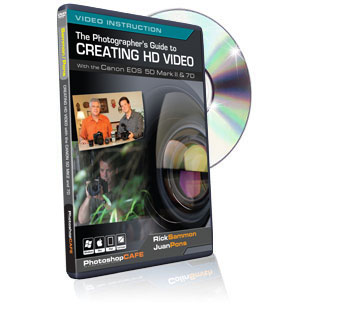 These resources will help get you jump started into video!
Good luck on your exciting adventure!