Creating HD Video with the Canon 5D Mark II and 7D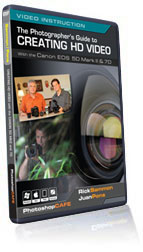 A user-friendly guide to all the basics of making video!
Shoot Video with Your HDSLR
One of the biggest revolutions to hit digital imaging in recent times is the ability to shoot cinema-quality video with a DSLR camera. The large HD sensors and high quality lenses make the depth of field and footage comparable to that of video cameras that cost a lot more.
Canon leads the charge with the EOS 5D Mark II and the 7D. Many photographers have these tools in their camera bags, but have been intimidated by the jargon that comes with video making. Most of the training to date has been video-centric and confusing for photographers.
Finally, two of the world's top experts address photographers and demystify the video process in an easy to follow and entertaining way. You will learn everything from how to navigate the camera controls, to lenses, audio, controlling light indoors and outdoors, accessories, tips and tricks for better footage and editing and sharing your final videos.