Photoshop Compositing: Sky City Project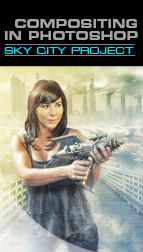 If you have ever wanted to learn about working with layers, masks and compositing in Photoshop, this is what you are looking for. In this video training, you are going to follow along, step-by-step as Colin builds a real-world compositing project with you. The great thing about a project is that nothing is skipped in the workflow. This is where you put together everything that you have learned about Photoshop.
You will learn how to combine different photos together to create a piece of art in Photoshop. You will learn different ways of extracting photos from the background and how to seamlessly blend them all together. You will learn how to add atmosphere, and cinematic coloring and implied lighting.
We begin by combining photos to build up the background plate. You will do some very basic painting techniques to add a personal touch (anyone can do it with the supplied brushes). We will then retouch and extract the model from her background. Finally we place the model into the scene and add sharpening and a color look to complete the piece.
Throughout this fast-paced training you will learn tons of techniques, tips and secrets to get the work done quickly and easily with pro level results. This is the stuff that you can actually use whenever you are in Photoshop. For Photoshop CC and Photoshop CS6 (Works on earlier versions too, although not all features will be available but you can still accomplish the same results)