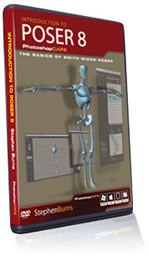 Learn Smith Micro Poser 8
Using Smith Micro Poser, you'll learn the features and workflow that the pros use. In a simple step-by-step, plain English approach, Stephen will show you exactly what you need to know.
Even if you have no prior experience, this video will teach you what you need to know to create stunning artwork in Poser 8. (Also covers the new interface of Poser 2010). This PhotoshopCAFE training video shows you how to pose a character, apply clothing and accessories, lighting, rendering and much more. You will import to Photoshop and integrate it into a scene. This DVD will also address the concept of posing characters into a visual story line.
This fast loading DVD ROM contains sharp wide-screen video. The advanced interface allows the user to instantly jump to any of the 23 lessons with complete control over the playback. All the lesson files are included, so you can follow along at your own pace!
If you've ever dreamed of easily creating 3D characters to integrate with your 2D or 3D artwork this is the video for you!
IBL (image Based Lighting) Lighting