CARTOON Illustration Techniques in Photoshop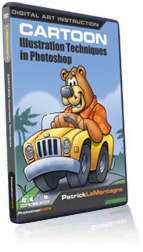 Learn from an award winning artist!
The demand for cartoon illustration is booming. The creative industry is crying for artists who can work digitally. Photoshop has become the leading software for cartoonists and illustrators worldwide. Whether you're cartooning for your own enjoyment, or you're a traditional cartoonist looking to make the leap to digital, these lessons will walk you through the process of turning a sketch into a cartoon illustration. Patrick's approach is easy enough for a beginner to learn cartooning, but is also full of valuable information for working industry professionals.
This video will teach you how to use the Photoshop tools required for sketching, inking, flat color, shading & tone, patterns, textures, and brushes, from the perspective of a syndicated cartoonist producing work on a daily basis for publication across North America.
This fast loading DVD ROM contains over 5 hours of video! The advanced interface allows the user to instantly jump to any of the 25 lessons with complete control over the playback. All the lesson files are included, so you can follow along at your own pace!
If you have ever been intrigued by the art of cartooning, had a desire to create your own cartoons, or if you just want to look behind the scenes… experiencing the first-class instruction of Patrick, a successful working cartoonist, makes this disk a must for your library.
Lessons Include:
Document Setup
The Layers Palette
Brush Basics
Sketching in Photoshop
Importing a Sketch
Freehand Inking
The Pen Tool
Inking with the Pen Tool
Ink Layer Cleanup
Color Fills
Selections and Color
Basic Color Theory
The Brush Engine
Brush Creation
Lighting Basics
Dodge and Burn
Soft Light
Painting
Shadow and Light
More Painting
Light and Layer Masks
Backgrounds and Composition
Patterns and Texture
Final Touches
The Final Image
Session 1 – Document Setup
Opening a new document in Photoshop, fine tuning your Wacom tablet, and color picker basics. (8:29)

Session 2 – The Layers Palette
Getting ready to sketch, by creating and working with new layers (3:19)

Session 3 – Brush Basics
Setting up your brush for sketching in Photoshop – (5:24)

Session 4 – Sketching in Photoshop
Sketches and silhouettes, developing a sketch using layers. (14:05)

Session 5 – Importing a Sketch
Bringing a pencil sketch into Photoshop and fine tuning it prior to inking. (13:38)

Session 6 – Freehand Inking
How to ink in Photoshop, by tracing over a sketch. (5:54)

Session 7 – The Pen Tool
How to use paths, anchor points and the pen tool (13:14)

Session 8 – Inking with the Pen Tool
Using the pen tool and stroking paths to achieve a smooth, clean inked cartoon. (37:29)

Session 9 – Ink Layer Cleanup
Cleaning up the ink lines and the introducing the Multiply Blend Mode (9:00)

Session 10 – Color Fills
Creating multiple color layers for individual selections and a flat color layer on which to paint (12:43)

Session 11 – Selections and Color
Why the layer method of cartooning makes for easy selections, and a few easy methods of changing color in your image (6:54)

Session 12 – Basic Color Theory
The color wheel and how to achieve a mood with color (3:15)

Session 13 – The Brush Engine
How to use the Photoshop brush engine. (22:18)

Session 14 – Brush Creation
How to create your own brushes in Photoshop from scratch and from a photo (35:46)

Session 15 – Lighting Basics
Deciding where to put light and shadow to achieve depth and form (7:52)

Session 16 – Dodge and Burn
The pros and cons of the Dodge and Burn tools. When to use them, when not to. (7:34)

Session 17 – Soft Light
Painting in black and white with the soft light blend mode. Sampling with the eyedropper for better paint blending. (17:57)

Session 18 – Painting
Painting in shade and color to achieve a brushed look (8:41)

Session 19 – Shadow and Light
Using the Multiply, Screen and Luminosity blend modes to achieve better light and shadow. (14:07)

Session 20 – More Painting
Refining the illustration using all of the previous shading, color, and lighting techniques (6:55)

Session 21 – Light and Layer Masks
Using light to add more life, and using layer masks for better non-destructive illustration (15:15)

Session 22 – Backgrounds and Composition
The 'less is more' approach to creating backgrounds and designing to allow for easy changes. (11:31)

Session 23 – Patterns and Texture
How to use patterns and texture to improve your image, without overdoing it. (18:42)

Session 24 – Final Touches
How to use Adjustment Layers and Vibrance to add a final polish to your cartoon (5:35)

Session 25 – The Final Image
The finished cartoon and a little friendly advice (1:25)