This tutorial shows how to fake a slow shutter speed photo of movement in photoshop by using Path Blur which was added in photoshop CC.
How to use Path Blur in Photoshop Tutorial
I'm going to show you how to create a Path Blur, so this is an addition to the Blur Gallery and it enables us to put objects into motion across paths in different shapes. In this photo, we have Lina holding my Ibanez guitar. I would never let her really swing this around and start smashing things up in the studio, but I can definitely make it look that way.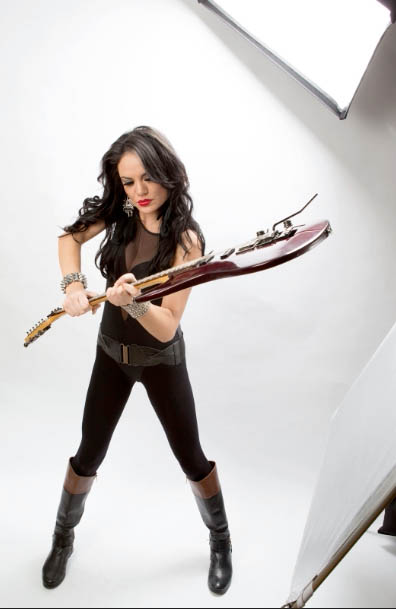 Step 1
Filter >Blur gallery>Path Blur.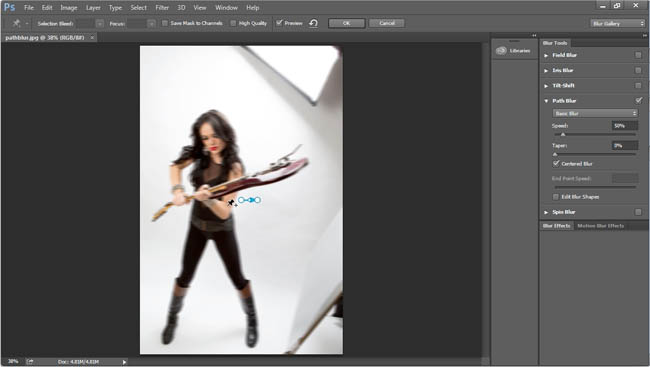 You'll see a blue path. You can change the direction by dragging the points. It will blur in the direction of the arrow,
Step 2
You can change the Speed to increase the blur effect. This will make it easier to see what we are doing too. (I have also slightly changed the direction)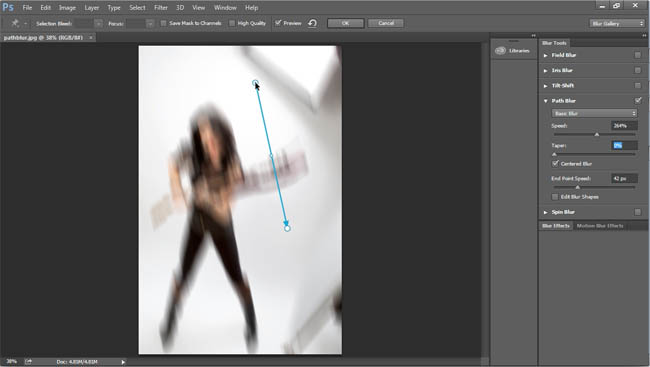 Step 3
Let's make it look like she's swinging the guitar around, so you can actually grab the center point and we can pull this out and create a little bit of a curve.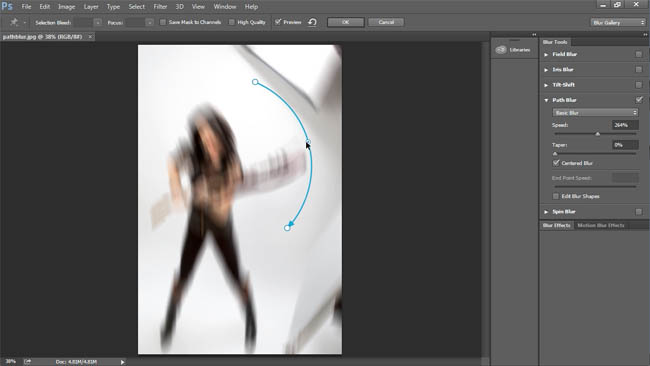 Bring the speed down to about 82, so it looks like we're kind of swinging the guitar a little bit.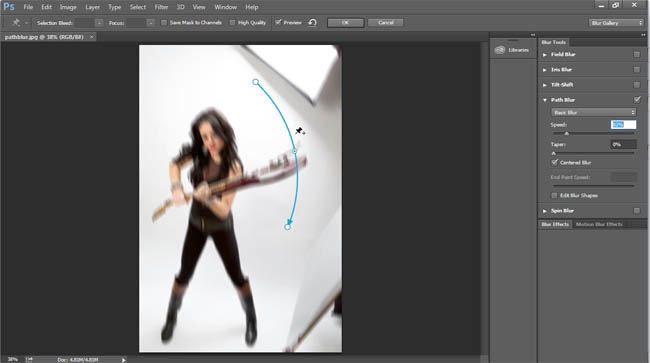 Step 4
Turn on the Edit the Blur Shapes, with the Blur Shapes, we can literally exaggerate the movement by adjusting the little red points.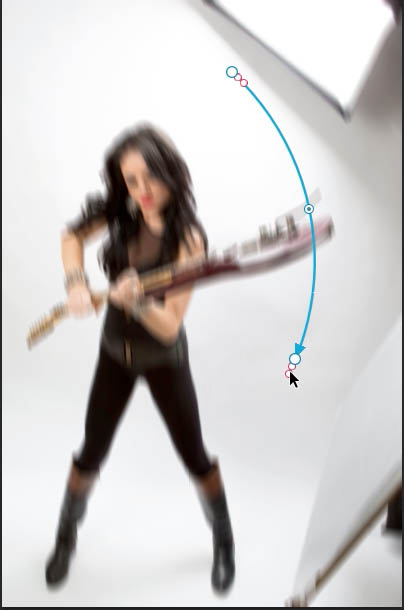 Step 5
Notice how it's blurring the entire background and everything with it.  I'm going to bring it down a little bit, not a lot of movement to get the result we need. I just wanted a little bit extra motion path to the guitar.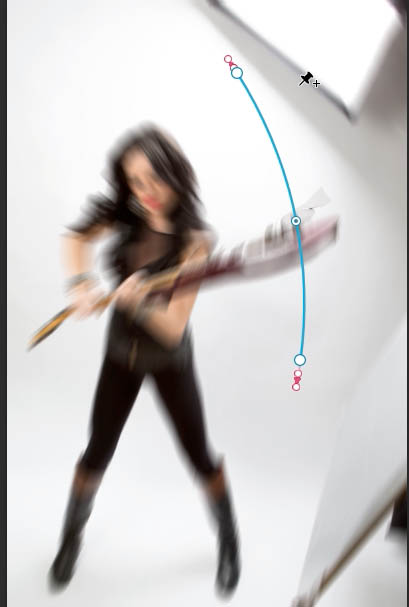 Step 6
We have all these blurring going on with our model too, so it's not too useful right now. Let's protect this area. Click once to add a new tool, I'm just going to use this one here to protect the rest of the image.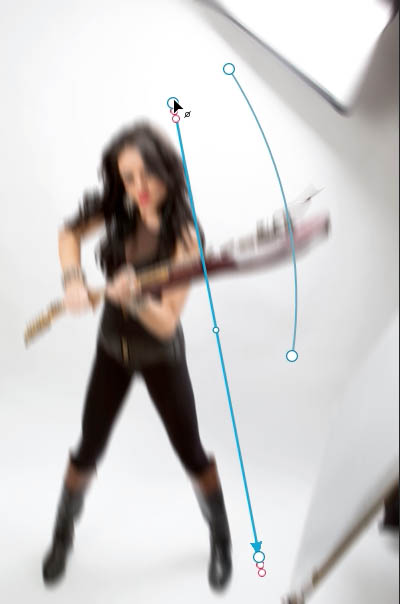 So this is what we do, we go over it, we select it. And I'm going to hit the Ctrl key and you'll see this little symbol; double click and that will set that to zero. Let's go down the bottom. Do the same thing, double click, and that will set that to zero. So what we've done now is, essentially, we've protected the rest of the photo.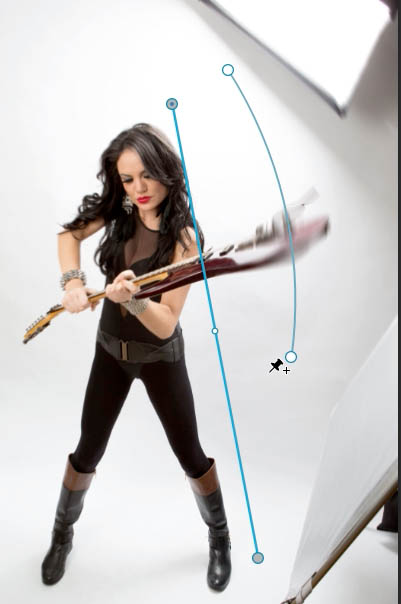 Step 7
We can even bend and move the points and it's looking more believable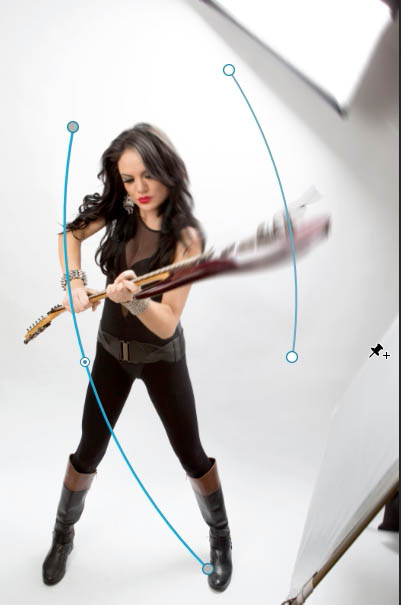 Step 8
You can now go back to the original path and tweak it a bit.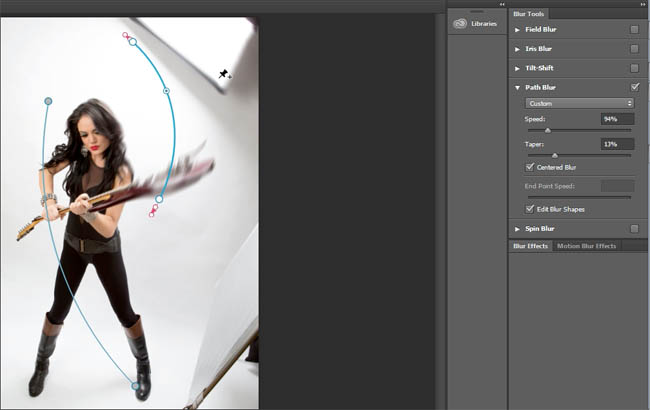 You just want to experiment a little bit until you find the right settings for you. Click OK now and apply this, we can see it looks as if she's swinging that guitar and there's no guitars harmed in the making of this.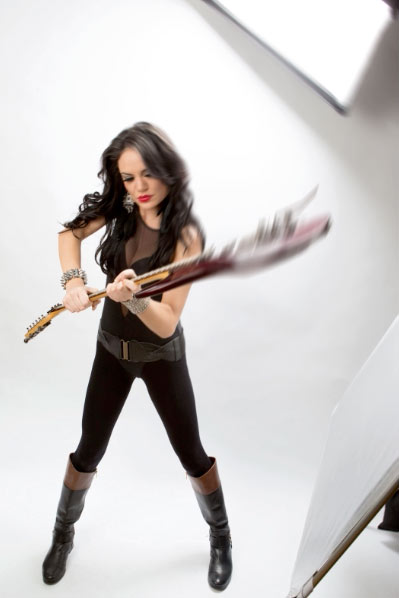 If you check out the video above, you can see an alternative method of creating this effect that gives a little bit more control. Its a bit more work, but you know how it is, swings and roundabouts. We can get good results quickly, or spend a bit more time for great results.
Thanks for checking out this tutorial! BTW, the video is one of many lessons on my Photoshop Secrets: Photoshop CC For Digital Photographers training. 
Im added new tutorials here at the CAFE every week.
Colin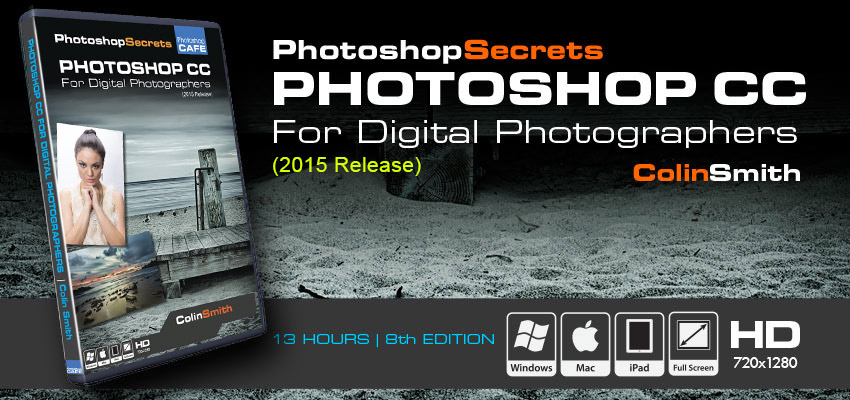 Colin Smith's flagship training!
This is the 8th edition of this best-selling training. Colin has completely redone everything for Photoshop CC. There are now new and better ways of working. This video will get you up to speed with the correct work flows, so you're blazing efficient and your photos look stunning! Learn the secrets of the pros from an award-winning expert who has excelled in the field and understands your needs and deadlines. In a warm conversational style, Colin clearly explains what you need to know without using empty jargon. You can use these techniques with confidence, knowing that these are the latest industry strength methods that produce professional results. All the new features of CC are covered in depth. Everything you need to know about Photoshop and photographs.. All new! The Author Colin Smith is an award winning digital artist, best-selling author, and trainer. Colin is founder of the #1 PhotoshopCAFE online community which has received over 30 million visitors. Colin has Authored/Co-Authored 19 books including Video in Photoshop for Photographers and Designers, Complete Photoshop for Digital Photographers, New Masters of Photoshop 1&2, How To Do Everything With Photoshop and Photoshop Most Wanted. He has won numerous awards including 3 Guru awards. He's been nominated for the Photoshop Hall of Fame twice. Colin has been featured in almost every major digital imaging magazine and is in high demand as a speaker at Photoshop World, WPPI, PPE, Imaging USA, Adobe MAX, creativeLIVE, Siggraph, PMA, CES etc. and He consults such companies as Edison, ABC Disney, Apple and Adobe. You can use these techniques with confidence, knowing that these are the latest industry strength methods that produce professional results. This fast loading video contains 13 hours of crisp HD video and 89 videos! The easy to use, newly updated interface allows you to instantly jump to any of the lessons with complete control over the playback. All the lesson files are included, so you can follow along at your own pace! If you are a photographer, designer, hobbyist, anyone who works with images, beginner to professional, this Disk is for you! All new and completely recorded for CC 2015