Photoshop CC for Digital Photographers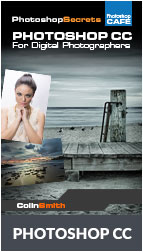 Please note: there is a new version of this available now:
Photoshop 2020 For Digital Photographers
Meet your new Photoshop Instruction
If you are looking to learn Photoshop, this is the training you have been looking for. This is more than a training course, it's a labor of love and passion, 15 years in the making. This is the 8th edition of this best-selling training and each time, it gets better and better. This is one of those rare training courses from a real-world expert who loves and uses Photoshop every day (and does training for Adobe). On top of this, Colin has a rare gift in breaking down even the most complex topic into a simple and fun tutorial.
The training covers everything you need to know when working with photographs inside Photoshop. You will learn all the tools to use and how to use them best. This is the A-Z Photoshop training, and it's loaded with undocumented tips and tricks so you won't be wasting any time.
There are now new and better ways of working in Photoshop CC. This video will get you up to speed with the correct work flows, so you're blazing efficient and your photos look stunning! Learn the secrets of the pros from an award-winning expert who has excelled in the field and understands your needs and deadlines. In a warm conversational style, Colin clearly explains what you need to know without using empty jargon. You can use these techniques with confidence, knowing that these are the latest industry strength methods that produce professional results.
This uses Photoshop CC 2015, there is a newer version of this training available. 
13 hours of video and 89 lessons! All the lesson files are included, so you can follow along at your own pace!
If you are a photographer, designer, hobbyist, anyone who works with images, beginner to professional, this training is for you!
Your new Instructor
Colin Smith is an award winning digital artist, best-selling author, and trainer. Colin is founder of the #1 PhotoshopCAFE online community which has received over 30 million visitors. Colin has written 20 books including the photographers Guide to Drones, Video in Photoshop, Complete Photoshop for Digital Photographers, New Masters of Photoshop 1&2, How To Do Everything With Photoshop and Photoshop Most Wanted.
He has won numerous awards including 3 Guru awards. He's been nominated for the Photoshop Hall of Fame twice. Colin has been featured in almost every major digital imaging magazine and is in high demand as a speaker at Adobe MAX, Photoshop World, WPPI, PPE, Imaging USA, creativeLIVE, Siggraph, NAB, CES etc. and He consults such companies as Edison, ABC Disney, Apple and Adobe.