Fashion Flair Creative Studio Lighting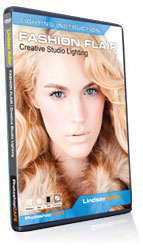 Learn to light fashion portraits like a pro!
In this unique, information packed video, YOU get to be the fly on the wall. Watch over the shoulder of a leading fashion photographer. Experience multiple styles of lighting and modifier set ups. Learn how to create everything from a soft, dreamy look to a film noir inspired
shot. Lindsey will teach you the most valuable lighting setups being used in studios today. All delivered in a clear and direct, jargon free style. Soft boxes, flags, reflectors, bounce-cards, grids, beauty dishes and much more are covered in detail.
This video showcases a two day fashion shoot in a New York studio with professional models. Lindsay not only shows you all the lighting setups, but she also explains the thoughts behind each shot. Learn how to approach each shot with the correct lighting technique. All the lessons on this visually rich video can be applied to your portrait shoots. Make your photography stand out from the rest, add a fashion flair, you and your clients will love the
results.
Running time: 2.5 hours of live footage
MAC/Windows (Transfer videos to mobile devices)
control over playback, full-screen and more.
Recreate your favorite looks!
Light Modifiers
Light Intensity and Angle
Beauty Dish – Beauty Box
Beauty Dish – Clamshell
Soft Boxes
Ring Light
1940's Glam
Rigging Kino-Flo Lights
Silver Reflector- Shadows
Silver Reflector- Dramatic
Create a Silhouette
Rim Lighting
Lighting for "Faux" HDR
Low Contrast Feminine Lighting
Lighting with Gels
UV Light strobe
Ghosting Effect
Lens Flares
Introduction (02:46)
Lindsay welcomes you and explains what to expect.
Light Modifiers (06:39)
Lindsay gives an in-depth overview of the variety of different light modifiers used in this video.
Light Quality, Intensity, Angle (01:09)
Lindsay explains how to adjust your lights to achieve the look you want.
Lenses (03:04)
Lindsay shows you the lenses she's using, and talks about her lens choices for specific situations.
Analyzing Photographs (04:39)
In this lesson, Lindsay uses a few photos from her portfolio to teach you how to identify the light source, just by studying the catch lights, shadows, and angle of light.
Makeup (01:50)
Sit back and watch Lindsay's stellar makeup team transform our models into camera ready gems.
Beauty Dish- Beauty Box (07:21)
Learn how to experiment with fill light using this wonderful technique.
Beauty Dish- Clamshell (07:31)
Have a look at the interesting configurations you can achieve with simple clamshell lighting set ups.
Soft Boxes (08:34)
The softbox is one of the most widely used light modifiers in the photography industry. See how to use it with style.
Ring Light (10:54)
This ingenious little light packs quite a punch. If you don't own one already, this demonstration will tempt your light shopping desires.
1940's Noir style (14:29)
Have you ever tried to capture the classic Noir look of the 1940's? See how Lindsay Adler does it with the right light, angle, wardrobe, and makeup.
Kino Flo part 1 (06:40)
Kino Flos are one of the most versatile lights a photographer can use in the studio. See how Lindsay creates her own configurations and patters. Watch how these photos draw you in, with this intense catch light flair.
Kino Flo part 2 (03:06)
Kino Flo lesson continued with a different model and lighting configuration.
Silver Reflector 1- Shadows (05:05)
Lindsay shows you how to control your shadows with the Silver Reflector dish.
Silver Reflector 2-Dramatic (11:15)
Continued Silver Reflector techniques with dramatic lighting effects.
Silhouette (06:46)
Watch how Lindsay uses silhouettes in high fashion.
Rim Lighting (10:22)
Lindsay shows you how to experiment with your rim lights and how to draw your subject from the background.
"Faux" HDR (04:13)
Here, a pseudo HDR process is applied to some choice shots, showing you some of the things that are possible with this lighting set up.
Low Contrast Feminine Lighting (11:22)
Fun lesson here; watch how Lindsay uses reflection, bounce, and lens flair to achieve a light, airy, feminine feel.
Lighting with Gels (06:23)
See the quality and dynamic range gels give your photos in the studio.
UV Light Strobe (03:54)
Lindsay shows you a very unique and unusual ultra violet photography effect.
Ghosting Effect (07:14)
Lindsay plays around with motion blur to achieve a ghosting effect.
Tips from Lindsay (15:43)
Lindsay gives you a variety of hot tips and brushes on some photo theory.
Lindsay Interview- PSC Studios (19:50)
Be entertained, be educated. Watch this exciting interview with Colin Smith and Lindsay Adler at PhotoshopCAFE Studios.