Fashion Flair Creative Studio Lighting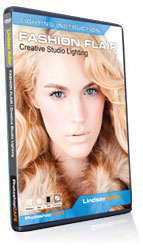 Learn to light fashion portraits like a pro!
In this unique, information packed video, YOU get to be the fly on the wall. Watch over the shoulder of a leading fashion photographer. Experience multiple styles of lighting and modifier set ups. Learn how to create everything from a soft, dreamy look to a film noir inspired
shot. Lindsey will teach you the most valuable lighting setups being used in studios today. All delivered in a clear and direct, jargon free style. Soft boxes, flags, reflectors, bounce-cards, grids, beauty dishes and much more are covered in detail.
This video showcases a two day fashion shoot in a New York studio with professional models. Lindsay not only shows you all the lighting setups, but she also explains the thoughts behind each shot. Learn how to approach each shot with the correct lighting technique. All the lessons on this visually rich video can be applied to your portrait shoots. Make your photography stand out from the rest, add a fashion flair, you and your clients will love the
results.
Running time: 2.5 hours of live footage
MAC/Windows (Transfer videos to mobile devices)
control over playback, full-screen and more.
Recreate your favorite looks!
Light Modifiers
Light Intensity and Angle
Beauty Dish – Beauty Box
Beauty Dish – Clamshell
Soft Boxes
Ring Light
1940's Glam
Rigging Kino-Flo Lights
Silver Reflector- Shadows
Silver Reflector- Dramatic
Create a Silhouette
Rim Lighting
Lighting for "Faux" HDR
Low Contrast Feminine Lighting
Lighting with Gels
UV Light strobe
Ghosting Effect
Lens Flares