The hottest trend right now is creating interactive 360 panoramas on Facebook. You might have seen them. On a mobile phone, you rotate you can spin around, look up, look down and see all around. Your smartphone becomes like a portal where you are looking into another world with a fully immersive view. It's really cool and fun. The good news is, it's really easy to make these! I have created a tutorial that shows you how right here! Enjoy it!
360template here
Check it out live on Facebook here

How to Make a 360 Facebook Pano
There are a few things that you need to do, in order for Facebook to recognize youruploads as a 360, if you don't include these, it won't work.
Aspect ration has to be 2:1 It has to be exactly 2x as wide as it is high. Example: If image is 1000px wide, it should be 500px high.
Maximum upload size is 6000px width X 3000px height
Must contain 360 Pano camera metadata. Many editing programs strip the metadata from a photograph. When using Photoshop either choose save as.. or use save for web, but ensure that you choose "all meta data" on export.
If it wasn't shot on a 360 camera, you need to add compatible camera metadata,  the most common is the Ricoh Theta S.
Adding Metadata
If you have stitched a pano shot from a non 360 camera, you need to edit the camera metadata to make it work. Photoshop. Lightroom and most editing apps won't allow you to edit the EXIF data. In the video above I show you how to add the metadata using a free online website https://thexifer.net to edit the file. You simply add RICOH THETA S to the camera make and model.
Tutorials on making Panoramas
How to make panoramas in Photoshop Camera RAW
How to Make Panoramas in Lightroom 6/CC
How to fix perspective distortion in Lightroom Panoramas (Guided Upright)
Use Boundary Warp with Panoramas in Lightroom (Fix rounded edges)
How to Make panoramas from Video in Lightroom and Photoshop (Go Pro used, but works on any camera)
How to make 360 Panoramas in Photoshop and make tiny planets
I will be adding more info and tips to this page soon.
Layer Blending Modes. Free eBook by Colin Smith
Grab your free PDF ebook right now. We were going to sell this for $9.99, but figured we would give it away instead and see what happens 🙂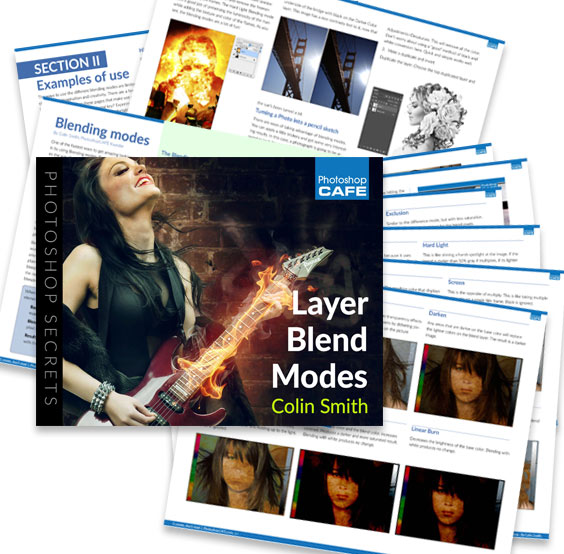 Don't forget to check out the website as we add new content every week. You can also find us on social media: Youtube, Facebook, Twitter, Pintrest and Instagram @PhotoshopCAFE.
See you at the CAFE!
Colin
---