iPad Review
Admittedly, I was one of the skeptics who decided not to buy the iPad before I even laid eyes on it. After all, I have a Laptop and an iPhone already. Why do I need another piece of energy sucking metal and glass to carry around with me. I mean, which pocket do I put it in? Is it time to bring back the man purse?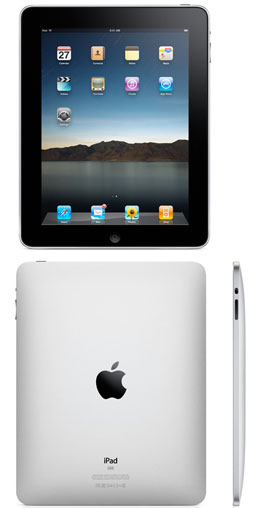 All this was until Saturday. I decided to go to the Apple store and have a look since I was already there. There was a huge crowd around the display models and I joined the scrum to get a first look.
As soon as I got my paws on the iPad, two things became apparent. First of all the speed of the device. This isn't the sluggish, clunky iPhone. The response is amazing. It's very snappy and the scrolling is very smooth and responsive. The second thing I notices is just how gorgeously designed even the basic apps like mail, calendar, contacts and notes appear. They don't just look great, but the way the animated pages turn and scroll is really well done. The apps are very elegant looking and functional. The screen is large and bright and the keyboard is easy to type with, although the lack of any feel is a little difficult. I can see someone coming out with an overlay really soon. (If you steal the idea from here, please send me a free one at least).
I'm not going to go through a blow by blow on all the apps, you can go to the Apple site for that. I can say that they work really well. Movies play great and look superb. Safari is just like surfing the web on a real browser despite the very annoying lack of Flash support. I mean, come on Apple, please give us the whole web!
I downloaded iBooks and also downloaded a couple of books. They are very comfortable and easy to read with options to change the text size and font. The books are actually nicer to read than I though. There are also many classics for free including HG Wells, Sherlock Holmes, Huckleberry Finn etc.
Apps
There are already 1,000 iPad apps available and they look great. There is support for the existing iPhone apps, but they look so chintzy compared to the iPad apps, I don't expect them to get much air time on my screen. Even games work really well. I downloaded Red Alert and really enjoyed playing, it was almost as good as a PC based game, but lack of disk access to store files and save games is very limiting. Must have apps for me were Pages, iBooks, ABC player for watching TV programs, BBC News, iFiles (Hopefully an iPad app soon) Adobe Ideas, Sketchbook Pro, and USA today for more news.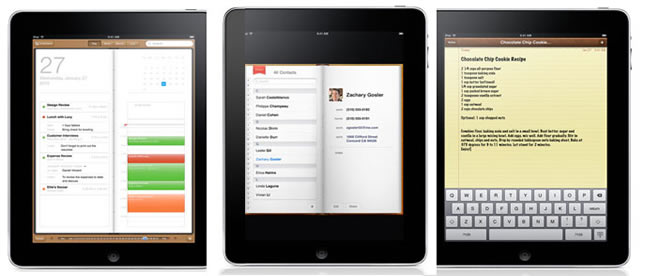 What I don't like about iPad
First of all, it's a bit insulting that I dropped $599 for the 32 Gig model and it doesn't come with a case or dock. It also doesn't come with headphones. The manual is a single sheet of paper. Biggest peeve is the lack of Flash support. There is a USB charger slot for uploading from iTunes and charging, but it doesn't allow you to transfer your own files.
Photographers
When you look at your photos on iPad you are going to fall in love. This isn't like squinting at your iPhone. You can show off your whole portfolio. There is even a spot to tap that will launch a slideshow and turn your iPad into a digital Photo Frame. The way photos are organized and displayed is super cool and super fast. You can get an optional camera connection kit and upload photos directly from your camera or SD card. It even supports RAW. (Aperture or iPhoto for iPad one day you think?).
Conclusion
This device is definitely a game-changer. Whether or not the iPad is a long term success (300,000 sold the first day), isn't that important. What is important is that this is a signal of a paradigm shift. Dead tree books are going the way of stone tablets.. fast. I expect other companies to start coming up with their own versions of the iPad and digital slates are here to stay this time. Expect future DVDs and downloads from PhotoshopCAFE to be compatable with iPad. In fact we have a number that are already, on digitalTrainingCAFE.com. (Called portable download). All new products will be available as portable download and matched to iPad resolution. They also work on iPod, Apple TV and iTunes for those who prefer their mac or PC.
Height:
9.56 inches (242.8 mm)
Width:
7.47 inches (189.7 mm)
Depth:
0.5 inch (13.4 mm)
Weight:
1.5 pounds (0.68 kg) Wi-Fi model;
1.6 pounds (0.73 kg) Wi-Fi + 3G model
Display
9.7-inch (diagonal) LED-backlit glossy widescreen Multi-Touch display with IPS technology
1024-by-768-pixel resolution at 132 pixels per inch (ppi)
Fingerprint-resistant oleophobic coating
Support for display of multiple languages and characters simultaneously
Capacity
16GB, 32GB, or 64GB flash drive
Processor
1GHz Apple A4 custom-designed, high-performance, low-power system-on-a-chip
Pricing
16GB
$499.00
32GB
$599.00
64GB1
$699.00
Wi-Fi + 3G 3G data plan sold separately. AT&T. 250/Mb M0. $14.99 Unlimited $29.99 (Ships late April)
16GB1
$629.00
32GB1
$729.00
64GB1
$829.00
I decided not to get the 3G model and pay $30 per month since I have an aircard already. I hope to get a mobile hotspot and use that instead. I'll keep yopu posted how that works out.
All the complaints aside, I really do love my iPad and I expect it to get a lot of use. It's a good device for consuming content, not for creating it. When you realize that, you will enjoy the convenience of having all your digital lifestyle safely tucked under your arm, because it isn't going in your pocket.
---