Dances With One Light Dramatic Photographic Lighting Techniques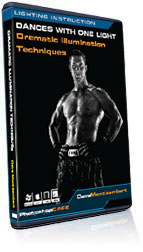 Learn how to create incredible portrait & fashion/glamour lighting using only one light in six in-depth photo shoots by international lighting wizard Dave Montizambert. Dave shows how he forces one light to do the work of two to four lights. He also simplifies & makes easy – for even the most nontechnical mind – the necessary lighting theory & concepts that are required knowledge for any lighting job. No fluff here, just solid nuts & bolts lighting information that every photographer should know!
During the six shoots, you will have an over-the-shoulder view from many angles of the one light-lighting setups as they unfold. You will see exactly where each piece of equipment is placed and why, plus you will see in Dave's patented intricate lighting diagrams, exactly how it all comes together and the principles involved that drive the shoot.
Running time: 2.5 hours Mac/Windows (Transfer videos to mobile device)
The Author
Dave Montizambert lectures internationally on lighting, digital photography, and Adobe Photoshop. He is also a published author having written two books on lighting and digital photography plus numerous magazine articles on these topics in North America, Europe, Russia, and Asia. For the past 25 years his company (Montizambert Photography) has created photographic images for such companies as McDonalds, Motorola, Tri-Star Pictures, Warner Brothers, Chimera Softboxes, Kodak, No Fear Sports Gear, Tsingtao Brewery of China, Toyo Tires, and many others. Dave's work has won Georgie, Lotus, Hemlock, Studio Magazine, CAPIC, and Graphex awards. Dave is available for lectures and workshops in your area and can be reached at www.montizambert.com.
Lessons Include
Create incredible lighting with reflectors & diffusion panels.
Use soft-boxes, octaboxes, soft grids, panels, scrims, & flats.
Create film noir lighting.
Mix ambient light with strobe or flash accurately.
Sculpt bodies with dramatic muscle lighting.
Create a sunlit outdoor portrait indoors.
Control light contamination from unwanted light spill.
Create an evening look for an illustrative portrait.
Use lighting ratios.
Meter effectively with handheld meters.
Create a rapport with your subject.
Control light quality (soft & hard light).
Build drama into your images.
Introduction (04:36)
Dave gives you an overview of his tried and true one light methods and sure fire techniques he's going to cover in this dynamic video.

Getting Started (03:56)
Dave sets you off on the right path.

Monitor Balance (00:34)
A quick look at monitor calibration set up.

Dave's Shooting Procedure (05:08)
Dave's shooting procedure will put you at ease as he simplifies the process.

Digital Artist (16:14)
Learn how to utilize your background ambiance and studio environment in this clever business portrait.

Evening Wine (15:11)
The work day is over, and it's time to relax with a little wine and soft tunes. See how Dave achieves this sensual evening look utilizing one light, a panel and a soft grid.

Dave Inspiration (01:02)
What inspires Dave?

Foundation (05:46)
Dave talks about his history and the influences of his brother and his legendary mentor, Dean Collins.

Hello Sunshine (18:02)
An indoor for outdoor shot, utilizing the background elements and a few light modifiers.

White Fashion (24:05)
In this super clean high key background shot, see how to get the background to blow out to a pure white, while maintaining an optimum exposure on the subject.

On Technique (01:48)
A quick word on technique

On Softboxes and Panels (03:17)
A brief overview of panels and softboxes

Gimme 50 (20:07)
Rig different diffusion panel configurations for rim, block and fill lights… and at the same time, creating a main light with something as simple as office paper. What fun!

Dramatic Boxer (27:16)
Ever wonder how athletes get that steel sweaty sheen to them, while still looking confident and poised? See how to become a lighting sculptor. Direct every bit of light and reflection exactly where you want it, to give this boxer this much desired and startling effect.

Closing Thoughts (02:59)
Dave says farewell and gives you some additional resources for your journey.

Equipment Used (06:13)
An overview of the brand of equipment used in this video and a few tips and insights.

outtakes (04:52)
A hilarious behind the scenes montage of Dave Montizambert and the PhotoshopCAFE crew making "Dances With One Light."