Perfect Exposure for Digital Photography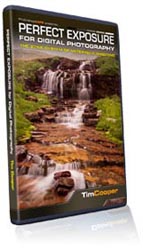 You'll never shoot another photograph in auto-mode again!
Learn how to shoot great photos!
This video will change the way you use your camera! Understanding the zone system is essential for capturing great photos. Ones' that look the way you always wanted. If you just leave metering to the camera, your photos will look dull and flat. Start getting your exposures right and your photographs will be crisp and full of detail and depth. Become a better photographer… a much better photographer, in just over an hour! You can even use your cameras built in meter. Tim makes it so easy, you'll laugh.
The Author
Tim Cooper began his career as a commercial and assignment photographer working with clients such as The North Face, Vasque boots, 3M and The International Heart Institute. His editorial and commercial photographs have appeared in Travel & Leisure, New York Times Magazine, Outdoor Photographer, Fly Rod & Reel, Northern Lights and Private Clubs as covers, advertising, art and editorial illustration.
In addition to commercial work, Tim has also been involved with the Rocky Mountain School of Photography since 1993. He has taught workshops, classes, seminars, as well as held the position of Director of Education,
Director of the Black and White Program and Director of Digital Imaging. Tim currently teaches various workshops, classes and seminars for the school in addition to consulting on both photographic and digital technologies. Tim is co-author of the book Complete PhotoshopCS3 for Digital Photographers.
Tim Cooper has been traveling all over the nation for several years, helping thousands of photographers hone their craft. A huge crowd favorite has always been his sessions on the Zone System for Digital Photographers. For the first time ever, Tim sat down in his studio and captured the magic on this video. As you watch, Tims' plain English style will cause you to understand light and exposure.
PART 1
Introduction to the Zone System, where we came from and we are going.
PART 2
Answers to your questions of why you would want to learn about the System, plus an overview of what you will be learning in the following sections.
PART 3
This section covers the different types of meters, metering patterns, and how they operate.
PART 4
Understanding the Zone Scale and how it relates to your digital camera. The sensors ?Latitude? defined.
PART 5
This section teaches how common colors and objects line up on the zone scale, and shows you how to place them correctly for good exposure.
PART 6
An in depth description of the histogram, why and how you would use it, and how it directly relates to the Zone scale
PART 7
This section teaches you how to use the Zone System when metering scenes for Split Neutral Density Filters, Fill Flash, and creating exposures for blending or the Merge to HDR function in Photoshop.
Get an Introduction to the original Zone System by Ansel Adams Find out how the original zone system is the forerunner of modern exposure
Discover why you need to learn how to meter Learn the difference between Incident and Reflected Meters
See what a meter actually does, and why it does it Understand the phrase "Meter for your midtones, and check your highlights"
Find out what type of Metering Patterns your camera has and how to use them Learn the original zones and what they represent
Discover the usable zones of today's digital cameras Determine why you would want to use Manual vs. Aperture or Shutter Priority Exposure Modes
Realize the similarities between a Zone and Stop Demystify the histogram and see how it relates to the Zone System
Discover how to visualize tones in your photograph Find out how to meter in difficult situations
Learn what to do with difficult subjects Become skilled at reading available light
Learn how to meter for fill flash Learn how to determine which Split Neutral Density Filter to choose
Determine the exposures for blending images together in Photoshop
Discover how to meter your scenes to create the proper images for the Merge to HDR function in Photoshop