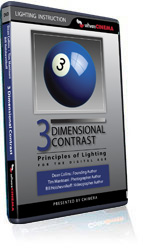 This video based course based on Dean Collin's original 3-Dimensional Contrast covers lighting for photography and video production in the digital age. It is taught by two of the few people qualified to teach Dean's techniques – Tim Mantoani and Bill Holshevnikoff, two of Dean's closest friends and best students who have since developed highly successful careers.
Professional Photographer Magazine 2009 Hot One Award Winner in the 'Educational Resources' category.
The Author
Dean Collins wrote the book on photo lighting and changed an industry in the process.
It has been said that those who can, do, and those who can't, teach. This is hardly the case of Dean Collins, who instructed photographers worldwide for over 20 years. In that time, he not only was a working photographer, but also influenced the way an entire generation saw its profession. With a combination of wit and the ability to reduce complicated concepts to workable solutions, he was the Dean of photographic instruction.
Learn from the master with these timeless programs that explain Dean's methods for photography and lighting. You will be enlightened and inspired with your complete understanding of lighting control.
This program demystifies the principles of light – Shadow, Diffused and Specular.
You will learn about the quality of light using variables such as: size of light source, distance of light source, aperture, surface efficiency, tonal efficiency and contrast.
Digital Download
Total Run Time: 61:46
Intro – This chapter outlines Dean Collins' Theory of 3 Dimensional Contrast and how the understanding of light and the 3 Dimensional Image will change the way you work. An in-depth look at the nomenclature and controls of 3 Dimensional Contrast sets up the remaining chapters in this program.
Exposure – Getting a proper exposure is the foundation of good image making in any format – still or video. This chapter demonstrates proper metering techniques, and provides a basis for understanding 18% gray tones and exposure manipulation.
Shadow Edge Transfer – Understanding and controlling the degree of shadow edge transfer (i.e. Light Quality) is a key element in shaping the look of your imagery. Demonstraions of light source size, distance from the subject, and much more, will help you to understand the true nature of light control for portraits, interviews, product work and more.
Specular Edge Transfer – Training your mind's eye to see light the way a camera captures it is a key to successful lighting. This chapter describes understanding and manipulation of surface texture on products, skin tones, etc. This is one of the keys to top-level product work.
Contrast between Shadow & Diffused – Controlling contrast is one of the most powerful tools for an image-maker. This chapter provides a thorough understanding of the manipulation of shadow contrast – here you will see demonstations on light placement, fill light control, lighting ratios and ambient light control.
Contrast between Diffused & Specular – The "other" contrast control. This section explores the control of highlights and how, through the size and distance of your light sources, you can have complete control over highlights for both still and video work.
Special Features – See original interviews with Dean Collins about his introduction and concepts of 3 Dimensional Contrast. See also humorous clips from the production of 1990 and out-takes.