Inspiring Beauty: Photographic Techniques of Matthew Jordan Smith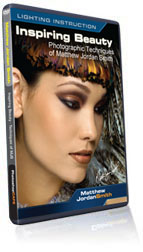 Imagine spending the day at the studio of a world-class photographer that shoots clients such as Oprah Winfrey, Tyra Banks and Michael Jordan, just to name a few. Come behind the scenes with acclaimed celebrity and Fashion Photographer Matthew Jordan Smith as he shows you some of the lighting set ups he uses to create the stunning imagery he is known for. Watch as Matthew shows you how to capture amazing high concept images, using only one light. Matthew will show you his tips for working with beauty dishes, octabanks, hot lights, reflectors and natural light. Learn how he builds up his lighting patterns and works closely with the models to get great looks. Your journey to creating great images is not about filling the studio with expensive equipment; it all starts with knowing how to effectively use one light.
Be a fly on the wall on these professional shoots to not only see how Matthew lights a scene, but how he works with his models, and how he thinks creatively.
Matthew shares his valuable perspective on how to plan your concepts and make your clients not only love your shots, but relate with your photographs on a personal level. Experience first hand Matthew's intimate, uplifting and professional environment.
"Beauty is in the eye of the beholder but the well trained photographer has the ability to share their vision of beauty through
photography. What was once perceived as ordinary is now a beautiful work of art. To learn how to see and capture the essence of beauty in your photography check out the new video available now." Matthew Jordan Smith
The Author
Matthew Jordan Smith has worked with some of the top names in entertainment today including Halle Berry, Jennifer Connelly, Jamie Foxx, Mandy Moore, and Oprah Winfrey. Singer and actress Vanessa L. Williams, television personality Star Jones Reynolds and basketball legend Michael Jordan have all chosen Matthew to create their personal portraits while Pantene, L'Oreal, Revlon, HBO and Showtime are just a few of the international clients that have used his artistry to showcase their vision. Matthew has appeared as guest photographer and surprise judge on the hit TV show America's Next Top Model numerous times. He has been the subject of television and magazine interviews including The View, Good Day New York, and BET. A native of New York City, Matthew resides in Los Angeles.
Lessons Include
Working with a Beauty Dish and a grid
Using Reflectors with Strobes
Working with fill light and flags
Creating Interest with a single Hot light
Backlighting with Diffusion Material
Using a mirror for creative lighting
Shooting with an Octabank
Using Motion in a Photograph
Using light to create a mood
Working with an Expo Disc
Letting Light Inspire you
Developing an Idea
Getting to Neutral
Importance of Using a light Meter
Personal stories and Tips from the Industry
Bonus Interview with Matthew
Introduction
Welcome to "Inspiring Beauty" a behind the scenes look at the photographic techniques of Matthew Jordan Smith.

Beauty close up and personal 1
In this lesson Matthew shows you how he uses the beauty dish with a reflector to get in close and bring out the detail in his images.

Beauty close up and personal 2
In this further exploration of the beauty dish, watch as Matthew works with his model to get the right shot.

Taking it to the streets
Matthew and his model go outside to work with the natural light and to add some motion to the shoot.

White balance with the expo disk
Part of being a professional is making sure that your color is "On Color" and balanced. See how Matthew uses the ExpoDisc and why it is his preferred white balance tool.

Story telling 1
Learn how Matthew comes up with a concept (Story) for a shoot, and the steps he takes to complete it.

Story telling 2
Matthew continues working with the Octabank to create his "story"

Tales from behind the lens
Matthew shares some of the unique experiences that he has had as a photographer.

Working with sunlight 1
Using diffusion material, a reflector and a flag, Matthew shapes the natural light for this high key image

Working with sunlight 2
Continuing from the last lesson, Matthew changes the model and the setup for a different look.

Arranging and selecting photos
Matthew talks about how he edits Photos from his shoots with Lightroom.

dramatic backlighting 1
Using backlighting and a handheld mirror, Matthew creates a dramatic image, and shows you how to get the same effect.

dramatic backlighting 2
Continue to Learn Matthew's technique for highlighting specific facial features, A technique that is perfect for make-up advertising.

shooting with hotlights
Working with a hotlight is like working with your own portable sun. Learn Matthew's methods for working with a single hotlight

closing thoughts
Some final thoughts on "Inspiring Beauty"

Uploading to iPad
Learn how to watch this video on an iPad or other portable device