Bridal Portraits that Sell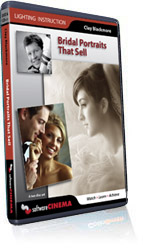 In wedding photography you have to get it right every time and with these surefire techniques you will consistently get great portraits. These methods are required knowledge for any wedding photographer! In this information packed DVD Clay Blackmore, a master of classical portraiture, shows you timeless techniques for taking Bridal portraits that will make any bride and groom look great. Also included is a DVD-ROM with videos showing you exactly how the images are retouched and optimized in Photoshop.
The Author
Clay Blackmore is one of the most passionate professional photographers in the country today and a true innovator in the world of wedding photography and portraiture. Working out of Washington, DC, Clay's style blends the beauty and timelessness of classical portraiture with spontaneity and appeal of photojournalism. Clays photographic, business, and educational credentials were meticulously developed during his 25- year association with the legendary Monte Zucker as assistant, business partner, and co-educator. One of only a few Canon Explorers of Light, Blackmore lectures nationally and internationally and creates the wedding portrait programs for Disney Photographics.
You will learn how to create individual and couple portraits quickly, but in a way that captures the beauty and romance of the day. These proven techniques can be used in a studio or on location at the wedding!
DVD-Video Shooting Sessions:
Introduction / Lighting Demonstration
Groom Session
Couple Session
Bride Session
Bride Contemporary
Live Wedding
More Portrait Ideas
DVD-Video
Total Run Time: 1:29
DVD-Video Shooting Sessions:
Introduction / Lighting Demonstration
Groom Session
Couple Session
Bride Session
Bride Contemporary
Live Wedding
More Portrait Ideas