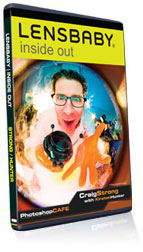 The creation of the Lensbaby came partially out of Craig's frustrated feeling that the SLR lenses on the market at that time limited his creativity. He began experimenting with making his own lenses, and the Lensbaby was the result. Craig is now widely known for his invention of lenses that feature a "sweet spot" of focus surrounded by gradually increasing blur.
In this video training, you will get a look behind the scenes and discover what Lensbaby is all about. Watch Craig talk about how he invented the Lensbaby and then learn as he introduces you to the entire line of lenses and optics from the Portland, OR headquarters. Once you have finished the in-house briefing on the ingenious Lensbaby System, then the fun begins! Join Craig Strong and Kirsten Hunter as they head out to Portland, OR, Laguna Beach and Balboa Beach, CA for some fun in the sun and a hands-on lesson.
Watch and learn how Craig and Kirsten use different optics and Lensbaby accessories to capture unique and creative photographs on a variety of cameras. If you are shooting or considering using the Lensbaby system, this is the video you have been waiting for!
This fast loading video contains 2 hours of brand new sharp video.
Lessons Include
Lensbaby System
Changing optics
Changing apertures
Focusing a Lensbaby
Controlling the sweet spot
Different optics for different looks
Shooting at the beach
Inventing the Lensbaby
Composer and Composer Pro
The Muse
The Scout
Control Freak
Lensbaby Spark
Fisheye
Using Macro
Edge 80 Optic
Sweet 35 Optic
Double Glass Optic
Pinhole and other lo-fi effects
Inside the Lensbaby factory
The Lensbaby System
Introduction (02:45)
Lensbaby showcase and introduction.

The Lensbaby System (04:53)
Lensbaby inventor, Craig Strong gives you an overview of the lens system, optics and accessories. Get a feel for how this groundbreaking optical technology adds a whole new dimension to your photography.

Optic Swap System (11:04)
Showcase of the innovative Optic Swap System. Learn how these interchangeable lenses can give you unique looks and change the way you think about selective focus.

Lensbaby Lens Bodies (08:31)
An in-depth look at the lens bodies and how they function.

Lensbaby Edge 80 (03:22)
Craig discusses the Edge 80 optic in more depth

Accessories (05:22)
Take a look at these innovative wide angle and telephoto accessories.

Aperture Disks (07:14)
Craig demonstrates the aperture disks and shows you how to make your own creative apertures for your lenses.

Lensbaby Production (09:03)
Take a tour of L.B. HQ in Portland, OR. Get a unique look at the factory manufacturing, ethics, and workflow.

Research and Development (04:19)
Craig takes a peek inside the Lensbaby R&D dept.
Using the Lensbaby
Beach Adventure w/ Craig & Kirsten (09:48)
Craig Strong and Kirsten Hunter take you on a Lensbaby beach adventure!

Shooting on location with Craig (11:30)
An exclusive southern California training session on the beach with Lensbaby inventor, Craig Strong.

Shooting on location with Kirsten (11:04)
An exclusive beach training session with Lensbaby Guru, Kirsten Hunter.

Training on the Waterfront (08:01)
Craig Strong and Kirsten Hunter take you to the Willamette River waterfront in Portland, Oregon for some additional field training.

The Lensbaby Story (07:57)
Craig sits down in his office and discusses Lensbaby origins and what inspires him as one of the worlds photography innovators.

Final Thoughts (01:00)
Craig signs off and gives you some valuable resources to continue your selective focus adventures.