Dave Cross shows how to use the Blend if sliders in Photoshop. This enables you to cut out objects and do non destructive compositing without making selections. From the video Non Destructive Workflow in Photoshop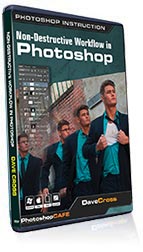 Get in-the-know!
CS6 Superguide
Join our list to receive more tutorials and tips on Photoshop. Get exclusive tutorials, discounts and the free super guides. No spam, all content, no more than once a week.
If you're on our list, you will receive it free by email as soon as it's available. If not, sign up now and get the CS6 Superguide for free. Or click the image below.
---