Non-Destructive Workflow in Photoshop CC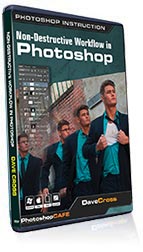 There's a lot of ways of working in Photoshop. Finally, a video that teaches you the BEST way of doing things!
Learn how to save time and be more creative in Photoshop by using non-destructive techniques. You'll see how to increase your accuracy and speed using Adjustment Layers, why Masks are better than erasing or deleting, and how Clipping Masks offer great possibilities when working with type. See how you can combine these functions with Smart Objects, Smart Filters and the Blend If sliders to create images with multiple levels of long-term editability. Dave will share methods to take advantage of Camera Raw, Lightroom and Illustrator from within Photoshop, and you'll learn how to make templates that can save huge amounts of time. Best of all, everything you'll learn can easily be adapted to many different editing situations.
Whether you're an artist looking for ways to let your creative juices flow, a photographer who wants to work more efficiently, or you simply want to expand your Photoshop knowledge, this downloadable course is for you!
Running time: 2.75 hours, Mac/Windows – Videos can be copied to mobile devices
The Author
Adobe Community Professional, Adobe Certified Instructor and member of the Photoshop Hall of Fame, Dave Cross has made his living as a Photoshop Educator for over 25 years. Dave has taught for Adobe, at Photoshop World, the Texas School of Photography, the Santa Fe Workshops, Imaging USA and is a regular on creativeLIVE. He has a Bachelor of Education, is a Certified Technical Trainer and has written many articles and several books. Dave was on of the original co-hosts of Photoshop User TV and has appeared in many DVDs and online courses for Kelby Training. Dave is well-known for his engaging style, his humor and his ability to make complex topics easy to understand.
Lessons Include
Why work non-destructively?
Saving Files
Using Masks vs Erasing and Deleting
The Properties panel
Adjustment layers vs Adjustments
Clipping Masks
The Blend If sliders
Vector graphics
Five Things to Avoid
The Problem with the History panel
Smart Filters
Smart Objects
Linked vs Embedded Smart Objects
Camera Raw Smart Objects
Lightroom to Photoshop as Smart Objects
Vector Smart Objects
Smart Object Templates
Examples of using a Non-Destructive Workflow