Solutions for Photographing Artwork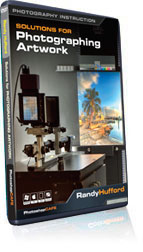 Three complete workflows to photograph artwork for the professional and enthusiast alike!
Correctly reproducing the exact color and texture of a painting in a photograph has always been a challenge. If you're an artist, framer, gallery owner or even a web designer, understanding the process of how artwork is properly replicated for digital use is knowledge that is essential to compete on the highest level.
Randy Hufford opened the largest professional photo lab in Hawaii, and has mastered of the craft, as it evolved into the exact science it is today. In this program, Randy breaks down the entire process into 47 lessons. These techniques teach the photographer how to accurately capture 2 dimensional, flat art and turn it into a usable digital file that can be printed or archived.
Understand the lighting techniques that are specific to lighting artwork. Perfectly align and center the artwork for accurate reproduction without distortion. Rake the light to cause the textures to pop on paintings and much more. Put on your seat belts, and learn what's possible in this very important niche of the art world, which will make sure your art lives on forever.
The Author
Randy Hufford is a Maui based artist and instructor. His great enthusiasm for photography is matched by a deep knowledge of the entire photographic process. From creating, printing, mounting and framing, Randy's keen eye and attention to detail make him one of the most informative instructors in the business. Randy is passionate about creating and selling his fine art images in galleries throughout Hawaii and the world. He shares his vision by teaching his methods at the Institute of Visual Arts, in Maui. www.ivamaui.com
This training contains over three and a half hours of indispensable training in beautiful, razor-sharp video. The advanced interface allows you to instantly jump to any of the lessons with complete control over the playback, including Full Screen.
Accurately reproduce artwork
Handling and hanging art
Lighting art
Copy Wall and Rolling Track
Fluorescent, HID and strobes
Using a Zig-Align to line up the camera
Monitor calibration
Monitor optimization
Lens selection
Raking light
Camera alignment
Color Checker Passport
Robin Meyers Grey Card
Proof prints
5D workflow
Hasselblad workflow
Scan back workflow
Color Pony
Profiling workflow