Location Lighting for the Wedding Photographer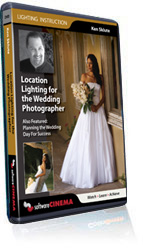 Ken methodically explains his location lighting techniques so you can learn how he works with his surroundings to make award-winning images. From there he teaches his guidelines for working with the bride and groom, and preparing for the day. Also included is vital information on how to work with an assistant and what equipment to use. These are the exact methods Ken uses to keep the big day running smooth without missing a shot. This is invaluable information for any established or aspiring wedding photographer.
The Author
Ken Sklute is an Award winning photographer, a Canon Explorer of Light, and an international lecturer. He has won many awards for his work, including 'Photographer of the Year' an amazing 25 times. He won Wedding Photographer of the Year and Photojournalist of the Year from the Professional Photographers of California. He has received 13 Kodak Gallery awards and 14 Fuji Masterpiece Awards. He holds Master of Photography and Photographic Craftsman degrees from PPA.
What you will learn:
Window Light
White Balance
Available Light in Open Shade
Flash in Open Shade
Shadow Edge Transfer
Direct Sun
Available Light Large Light Source
Exposure Compensation
Sunset with Flash
Planning the Day for Success
Utilizing Assistants
The Lighting Equipment
DVD-VIDEO
1 Hour, 36 minutes
What you will learn
Window Light
White Balance
Available Light in Open Shade
Flash in Open Shade
Shadow Edge Transfer
Direct Sun
Available Light Large Light Source
Exposure Compensation
Sunset with Flash
Planning the Day for Success
Utilizing Assistants
The Lighting Equipment