Classical Portraiture Design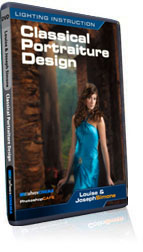 Louise and Joseph Simone are master portrait photographers, whose passion and incredible talent for photography are recognized the world over. They bring a wonderfully distinctive eye and style to their signature images and are artists in the purest sense. On this Digital Download, the Simones will teach you their techniques for creating astonishing and immaculate portraits that will illuminate your portfolio and help you secure lasting bonds with clients.
This is a one of a kind opportunity for a photographer of any level to go behind the scenes with two of the world's most sought after photographers. You will understand the importance of getting to know your clients. In the end, every detail and every step of this method will give you a product that is not only unique, but that will resonate deeply with your client forever.
The Simones have dedicated their entire lives to the study of photography, lighting, composition, painting, psychology, color theory and more. All these elements come into play when creating the perfect portrait. Learn about the Simones process. Learn how to analyze and present a face using geometrical angles and timeless composition principles. These are the same techniques that master artists have used for centuries to create compelling portraits. Absorb the intelligent lighting recipes used in capturing some of their most successful portraits. Understand the rules used to create strong compositions that will make your portraits stand out from the crowd. Notice how the Simones use backgrounds and sets. See how they shoot both in the studio and on location.
CONTENTS
Session 1: Introduction
Session 2: Consultation
Session 3: Face Study
Session 4: Flash Meter
Session 5: White Balance
Session 6: Quality of Lighting
Session 7: High Key Lighting
Session 8: Low Key Lighting
Session 9: Profile Lighting
Session 10: Virtual Background
Session 11: Outdoors
Session 12: Composition
Session 13: Conclusion