Photoshop & Flash INTEGRATION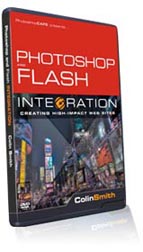 Build stunning websites with Photoshop and Flash CS4/CC
Even if you have no prior experience, this video will teach you what you need to know to create web sites that will blow the competition out of the water. This 6 1/2 hour DVD ROM shows you how to plan, design and launch your website. Combining popular web design tools, Adobe Photoshop and Flash, you'll learn the workflow that the pros use. In a simple step-by-step, plain English approach, Colin will show you exactly what you need to know. This one-of-a-kind guide will show you how to create visually appealing and technically effective professional web sites. You'll add an image gallery, formated text, feedback form, video and animation.
This fast loading DVD ROM contains 6.5 hours of sharp wide-screen video. The advanced interface allows the user to instantly jump to any of the 47 lessons with complete control over the playback. All the lesson files are included, so you can follow along at your own pace!
If you've ever dreamed of creating a website that looks great, is functional and is easily updated, this is the video for you!Build a stunning portfolio site!
STEP BY STEP WALKTHROUGH :: ALL FILES INCLUDED
Nested movieclips
Movie clips within movie clips. Essential for any complex or logical animation. All explained in the tutorial.
Gallery page
Design the gallery page. Special skill: Vignette borders on the photo with masks. Duplicating thumbnails.
Buttons ActionScript
Create the Actions to control the page navigation. Click the buttons to change pages on the site.
Home page: Finishing touches