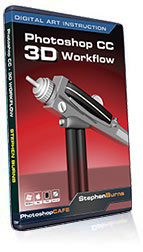 Create real-world art using the power of 3D in Photoshop
This unique course will teach you the basics of 3D. Then you will understand how to use the 3D tools in Photoshop for yourself. You'll learn about 3D objects (Geometry), lighting, custom texturing and more. This training provides a comprehensive, overview of the 3D workflow and features of Photoshop CC. This downloadable training course will also address the concept of importing and exporting 3D objects from 3rd party programs. Understand UV map texturing, Image Based lighting, general lighting techniques and texturing. create a single 3D scene with multiple 3D objects in a visual story line.
If you're a designer, concept artist, or hobbyist who wants to
painlessly add 3D to your bag of tricks, this training is for you.
Introduction (08:18)
System requirements and getting familiar with the interface and set up for an efficient 3D Workflow.

3D Lighting (24:15)
An overview of 3D Lighting covers the various lighting tools and their capabilities.

3D Navagation and Grouping (18:41)
Creating 3D objects from textures- Understanding the properties of 3D layers scenes and new additions in Photoshop CC

Importing 3D objects (14:04)
See how seamlessly PS CC Imports 3D objects from 3rd party programs.

Intro to Texturing (14:04)
Learn how to bring your 3D models to life by leaning how to apply textures to your model.

Creating Custom 3D Objects (42:09)
Learn how the new PS CC 3D environment allows you to custom create your own 3D models.

Creating 3D with Pen Tool (19:52)
An extension of chapter 6- You will learn how to create more sophisticated models using the Pen tool.

Loading this video on iPad (02:11)
How to upload this DVD to your iPad or other compatible devices.