Photoshop Secrets: Photographic Effects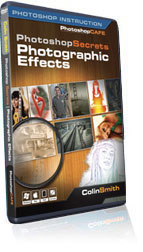 Join one of the world's foremost Photoshop experts, Colin Smith. Colin shares his mouth-watering recepies, that will turn your photographs into jaw-dropping masterpieces. He reveals how to mimick the coolest traditional darkroom techniques and a whole lot more that would usually require thousands of dollars of special gear. He studied photographs that used special development processes and equipment, such as tilt-shift lens, toy cameras etc. He then deconstructed the looks and turned them into easy to follow photoshop techniques.
Learn how to change the time of day, the weather and even the environment. These techniques are just like magic! All of these original techniques stand up to industry standards, because Colin has used them in his professional work for years. You will be amazed at how easy these techniques are once you know the "secret sauce." All the photographs have been taken by Colin, so there are no canned, stock photos. You won't find these techniques in the user manual… or anywhere else.
Photographers and designers will celebrate this
one-of-a-kind title in their learning library.
From Colin…." This is one I have been thinking about creating for several years now. I have been thinking, "What if there were a video that shows people how to mimick real-world photographic techniques?" Tilt-shift lenses, special types of processing, toy cameras, old antique photos and the like. So, I studied photos of these different techniques and figured out the best way to replicate them in Photoshop. If you're familiar with my style of teaching, you'll know that the workflows are robust and non-destructive. I have thrown in a ton of personal tips and shortcuts. Amazingly enough, all this is easy to follow, so that anyone of any level can do this. I also used techniques that will work on any version of Photoshop, past or future! "
CH1 Creating Different Camera Looks
Lens Zoom
Simulate the effect of a zooming lens with a slow shutter speed
Fake HDR
Create an effect that mimics a tone mapped HDR photo from a single image
Fake HDR 2
Use HDR Toning to Create an effect that mimics a tone mapped HDR photo from a single image
Toy Camera
Change your photo to look like it was shot with a plastic camera, such as a cheap Holga or toy camera
Split Tone
Create a split tone effect with color cast in shadows and highlights
Split tone 2
Create a split tone effect in Camera Raw with color cast in shadows and highlights
Black and White – Grayscale
Two methods of grayscale conversion for the best results. Also an explanation of what's happening
Antique Look
Change your photo to look like it was shot in the 1800's with the Frederick Archer style wet Process
Vintage Photo
A popular old-time look, both in faded color and sepia tone
CH2 Changing the Mood
Hyper Detailed
Create a smooth, but detailed image, along the lines of a Dave Hill style
Cinematic Look
Apply some processing to give a photo a cinematic movie feel
Fake Sunset
Take a photograph from the middle of the day and make it look like it's sunset
Dreamy Slide Sandwich
Create a glowing, soft, doubled feel that adds an amazing feel to a photograph
Magical Glow
Create a romantic feel, by softening the highlights of a photograph and making the whites glow. Both landscape and wedding photos covered
Soft Portrait Focus
Add a nice soft glow to portraits, for that glamorous touch
CH3 Artistic Effects
Area Color
Make the photograph black and white, except for a single colored object
Cartoon Effect
Turn a photo into a cartoon, a fun effect
Hand Painted Looks
Learn how to make your photo look like different hand-painted styles, including a simulated canvas background
Pencil Sketch
Turn a photo into a convincing pencil sketch. Also included colorizing and etching techniques
Change Color
Change the color of a portion of a photograph without making any selections
Psychedelic Sunburst
Create a sunburst effect that Jimi Hendricks would love
Ch4 Special Effects
Tilt Shift Miniaturization
Fake a tilt shift effect. Make huge objects in photos look like miniatures
Depth of Field
Add a depth of field effect to a sharp photograph. This goes way beyond just a simple blur
Water Reflection
Create a lake of water in a dry place. Very believable and unbelievably simple
Rain
Create a rain effect. Add layers of rain to simulate distance
Sky Replacement
Take a plain boring sky and replace it with a nice cloudy sky. Some extra tips to add correct atmosphere and coloring so it looks real
Light Beams – Night for Day effect
Create beams of light and illuminate a subject realistically. Change a daytime shot into a night shot. Also learn to change the color of the lighting in a single move
Uploading to iPad
Learn how to watch this video on an iPad or other portable device