Photoshop 2022 for Digital Photographers | Photoshop Secrets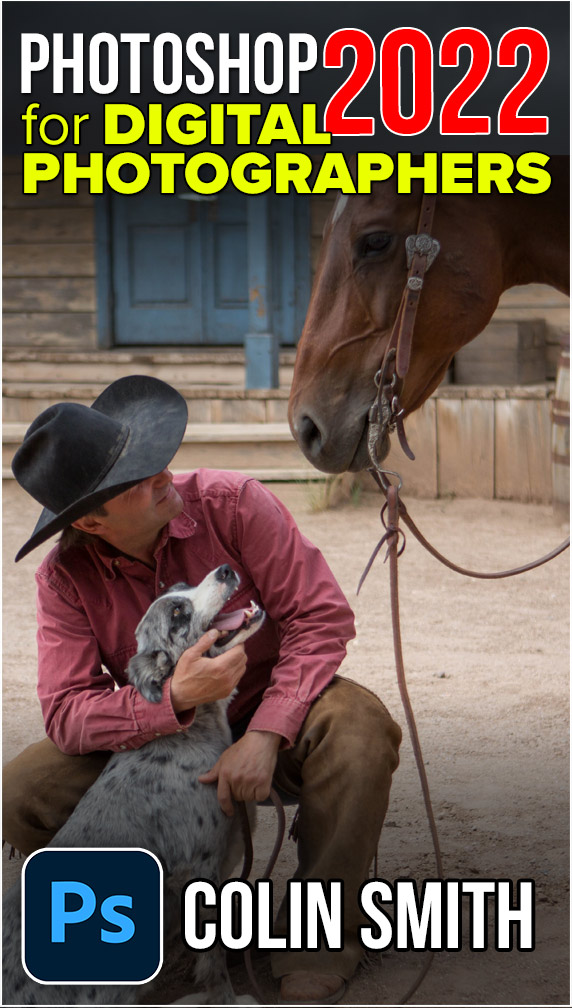 Photoshop Secrets: Photoshop 2022 For Digital Photographers
It's here! The long awaited update to our flagship Photoshop training. Learn Photoshop 2022 now (Fully applicable to Photoshop 2023).
This 10th edition of our award-winning training has been re-imagined to take advantage of Photoshop 2022, with every lesson using the latests tools and techniques and taking full advantage of new features and workflows including new neural filters and new ACR features. This is the fastest way for you to master Photoshop and transform your photos, even if you are new to Photoshop.
This training is created with one goal in mind. Helping you to get the absolute best result possible, in the shortest time possible, and to do that consistently, no matter what the Photoshop imaging challenge you face. Right now, you may be intimidated by the complexity of Photoshop 2022. When you have finished this training, (I don't care if you're 14 or 84) Photoshop will be as familiar as a glove and you'll have the confidence to take on any task. That's when you can really have fun and enjoy creating wonderful imagery, and let your imagination take over as the mechanics become second nature.
Let me ask you something. Have you been struggling to learn Photoshop, or to find a truly great course that will teach you what you need to know without hours of time-wasting talk or gimmicky techniques? Would you like to personally learn from an instructor that is widely recognized as one of the world's top experts, and actually uses Photoshop every day? Have you seen photos and wondered how they look so good, clean and detailed, as well as how they get those particular looks (By now, I'm sure you realize, it's not all in camera).
Your search is over, you have just found the training you need to transform all your images. Broken up into easy bite-sized lessons and delivered in well-paced plain English, you will work your way through some of the finest Photoshop instruction you can find anywhere. It will be like watching over Colin's shoulder as he reveals the techniques and tricks that he has learned over 20 years of creating award-winning images for some of the biggest brands in the world. There is a reason that Adobe calls on him on a regular basis to speak at their conference (Adobe MAX, where he was awarded Max Master) and represent Adobe at places like YouTube and Sony Kando. Adobe even asked Colin to create some of the tutorials that are built right into Photoshop. Colin has also written 20 books on Photoshop, so he knows his stuff and wants to pass on this knowledge to you in a friendly and conversational way.
Whats' in this training?
Download securely and safely right now and start learning immediately
Comprehensive with 83 videos, packed with information and tips
Latest techniques and workflows
Covers all the key new features in Photoshop 2022
Everything you need to know to confidently work with photos in Photoshop 2022
Simple language and conversational delivery, even a beginner can follow along
Deep enough, with advanced techniques like luminosity masking and frequency separation, that an experienced user will learn new things
Hidden tips and secret tricks generously sprinkled throughout
Includes:
All the same lesson files used by Colin (Your instructor)
Bonus actions, LUT
Cheat sheet for Luminosity Masking, Frequency Separation and High-Pass Sharpening
You are delighted, or your money back (as always at PhotoshopCAFE).
If you are a photographer, designer, hobbyist, anyone who works with images, beginner to professional, this training is for you!
YOUR INSTRUCTOR
Colin Smith is a Los Angeles based digital artist, photographer and trainer. He is founder of one of the worlds most popular websites for creators, PhotoshopCAFE.com. Which has received over 50 million visitors. As an Award winning digital artist, Colin has 3 guru awards under his belt. His work has been featured in most of the industry magazines as well as Time Magazine and the New York Times.
His client list includes, Toyo Tires, Microsoft, Saatchi and Saatchi and Rock and Roll Hall of Famer, David Lee Roth.
As a leading trainer, Colin has written 20 books, and too many video courses to count. His training clients include Adobe, Apple, Disney and Edison International. He is a regular speaker at major conferences,  including Adobe Max, PPE, WPPI, Photoshop World, Creative Pro and Imaging USA. He runs a popular youtube channel (photoshopCAFE) with over 270,000 subscribers.
When he isn't at his computer, Colin can be found pursuing his passion of travel and capturing beauty with this drone and camera. 
Learn How to use Photoshop 2022.
What you will learn in Photoshop 2022 For Digital Photographers:
GETTING STARTED |+ Adobe Camera RAW
LESSON 1. WELCOME/INSTRUCTIONS: How to load up your extras
LESSON 2. CREATIVE CLOUD: What gets synced, how to install and update Photoshop
LESSON 3. OPENING IMAGES IN PHOTOSHOP: How to get your images into Photoshop
LESSON 4. BRIDGE OVERVIEW:  Bridge is your asset manager. Launching images from Bridge
LESSON 5. ACR OVERVIEW: Camera Raw is the best place to do basic adjustments to your photos
LESSON 6. BASIC ADJUSTMENTS: Essential tone and color adjustments, where photos start
LESSON 7. ACR MASKING: Powerful new masking to select skies, objects and more
LESSON 8. RADIAL GRADIENT: Spotlight with a super vignette
LESSON 9. ADJUSTMENT BRUSH:  Changing specific areas in your photos
LESSON 10. PRESETS:  Reusing settings in a single click
LESSON 11. PHOTOSHOP AND LIGHTROOM: If you use Lightroom, how to open your photos in PS

Photo ADJUSTMENTS (COLOR AND TONE) (2:19:42)
LESSON 12. HISTOGRAMS: See the tone distribution in your image
LESSON 13. WHITE BALANCE: Fixing and removing color casts when the light color is wrong 
LESSON 14. ADJUSTMENT LAYERS: The best way to use adjustments
LESSON 15. EYEDROPPER: A fast and precise way to adjust your images

LESSON 16. SHADOW / HIGHLIGHT: Boosting detail in shadows and highlights
LESSON 17. CURVES: How to use Curves for tone (PS's most powerful tool)
LESSON 18. CURVES COLOR: How to use curves for color
LESSON 19. MATCH COLORS EXACTLY: Change color to an exact specified color
LESSON 20. COLOR GRADE: Vintage and retro coloring using Color Grade 
LESSON 21. GRADIENT MAPS: Add high end color grading
LESSON 22. COLOR CHANGE: How to change the color of something without the need for selections

LESSON 23. PAINT WITH LIGHT: Use Camera RAW Adjustment Brush to selectively lighten
LESSON 24. BLACK AND WHITE #1: Use Channel Mixer to convert to black and white
LESSON 25. BLACK AND WHITE #2: Quick black and white conversion with B&W adjustment
LESSON 26. LUTS: Use Looks for instant color and tone presets
LESSON 27. COLOR TRANSFER: Copy color from one image to another

LESSON 28. COLORIZE: Turn a Black and White images into color using Neural filters and color

LESSON 29. LUMINOSITY MASKS: A powerful way to adjust images, by breaking them into 7 tonal regions
LESSON 30. LAB MODE: Use LAB mode to fix stubborn images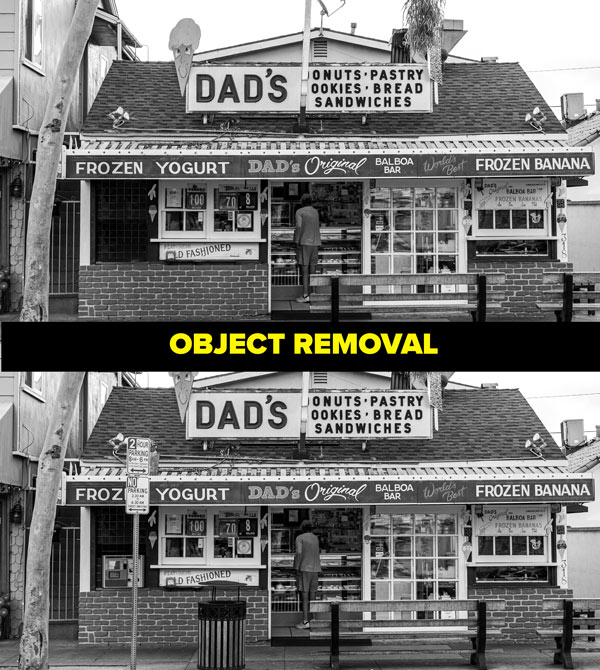 RETOUCHING and Effects
LESSON 31. STRAIGHTEN: Straighten that crooked photo
LESSON 32. CROPPING: Trim for size or composition
LESSON 33. PERSPECTIVE CROP: Fix keystoning while cropping
LESSON 34. WARP TOOL: Warp the shape of an image for effect or correction

LESSON 35. LENS CORRECTION: Use built in lens profiles to fix distortion and fisheye
LESSON 36. Fix Keystoning: Fix keystoning with Adaptive Wide Angle.
LESSON 37. UNSHARP MASK: The quick and basic way of sharpening in Photoshop
LESSON 38. SMART SHARPEN: A more advanced way of sharpening a photo
LESSON 39. HIGH PASS SHARPEN: Non destructive way of sharpening a photo
LESSON 40. NOISE REDUCTION: Reduce the noisy grain in a photo
LESSON 41. SHAKE REDUCTION: Remove camera shake
LESSON 42. PATCH TOOL: Cover and heal larger areas of your image
LESSON 43. REMOVE POWERLINES: Easily remove Powerlines

LESSON 44. CONTENT AWARE FILL: Remove distractions and fill holes with ease
LESSON 45. ADVANCED CONTENT AWARE FILL: Advanced Content Aware Fill options
LESSON 46. CLONE STAMP BASICS: Cloning and fixing your image with the most control  
LESSON 47. CONTENT AWARE MOVE: Move and object and plug the hole in a single click-drag

LESSON 48. CONTENT AWARE SCALE: Change the shape of a photo and extend the point of interest
LESSON 49. VANISHING POINT: Clone and paste perspective in an image
LESSON 50. SPOT HEALING: Easily remove spots and blemishes
LESSON 51. REMOVE REDEYE: Get rid of red eye on people and pets
LESSON 52. FREQUENCY SEPARATION: Advanced way for perfect "high end" skin
LESSON 53. BODY SCULPTING: Reduce fat and baggy clothing
LESSON 54. HEAVENLY GLOW: Make skin, or anything glow with this "glamor shots" look
LESSON 55. DEPTH BLUR: Change focus of an image with this amazing neural filter
LESSON 56. DODGE AND BURN: Painting shadow and highlights for depth and emphasis
LESSON 57. CREATE LIGHT: Paint warm, natural light into a dark scene
LESSON 58. IRIS BLUR: Create a very narrow focus area like a macro blur
LESSON 59. SPIN BLUR: Make things look like they are rotating
LESSON 60. TILT SHIFT: Make things look like little toys with tilt-shift
LESSON 61. PATH BLUR: Make objects look like they are moving in interesting ways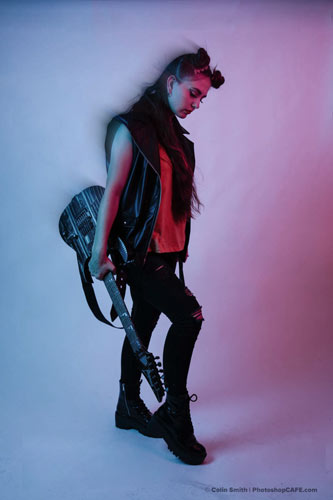 LAYERS,compositing and MULTI-SHOT TECHNIQUES
LESSON 62. Layer Basics: How layers work for beginners
LESSON 63. COLOR SPACES: How to stop colors changing when combining images
LESSON 64. LAYER MASKS: How Layer Masks work
LESSON 65.  LAYER MASKS 2: Compositing images and blending with Layer Masks
LESSON 66. SMART OBJECTS: A powerful way of working non-destructively
LESSON 67. OBJECT SELECTION: Easily select things in photos and new Object finder
LESSON 68. SELECT FOCUS AREA: Cut out blurry areas
LESSON 69. CUT OUT PERSON: Remove a person (or anything) from their background 
LESSON 70. MATCH COLOR: Make all layers match, when combing images
LESSON 71. MASKING DIFFICULT IMAGES: Cut out difficult images
LESSON 72: BACKGROUND BLUR: Creating a shallow depth of field bokeh blur
LESSON 73. SKY REPLACEMENT: Change out the sky with Photoshop's built in skies, or use your own

LESSON 74. PERSPECTIVE WARP: Match angles and perspective between layers
LESSON 75. FOCUS STACKING: Combing images with shallow depth of field for a sharp image
LESSON 76. SEAMLESS PANORAMA: Combine photos for a sweeping panorama
LESSON 77. PANORAMA in ACR: Stitch photos in Camera RAW for Panorama
LESSON 78. HDR ACR: High Dynamic Range technique using Camera RAW
LESSON 79. HDR: Make a High Dynamic Range Image with lots of detail
LESSON 80. HDR PANORAMA: Combine a panorama and HDR for the ultimate landscape image
LESSON

 

81. WHAT NEXT? 

Suggestions for further learning
And tons of useful power tips sprinkled throughout!
Includes all the images used in lessons, actions, PDF table of contents and cheat sheet. 
You will be thrilled, or 100% money back
NEW: NFT AVAILABLE
If you prefer to own this as a collectable NFT, check it out here