Adobe MAX Creativity Conference
[really_simple_share]
One conference I always look forward to each year is Adobe MAX. This is Adobe's big annual conference. This year 7,000 people descended on LA Live's Microsoft Theater (Formerly known as the Nokia Theater, where they hold the Grammys, American Idol Finals etc). Kick-off is the opening Keynote and ceremony from the Adobe CEO Shantanu Narayen. This opening ceremony is where all the new Adobe stuff is shown off. The Multi-media opening is always something to see, and frankly they have been the best multi-media presentations I've ever seen. Animations, live action, screens on the roof, the walls, the floor and last years rotating massive screens, added with amazing sound system which resembles thunder, makes for quite an event.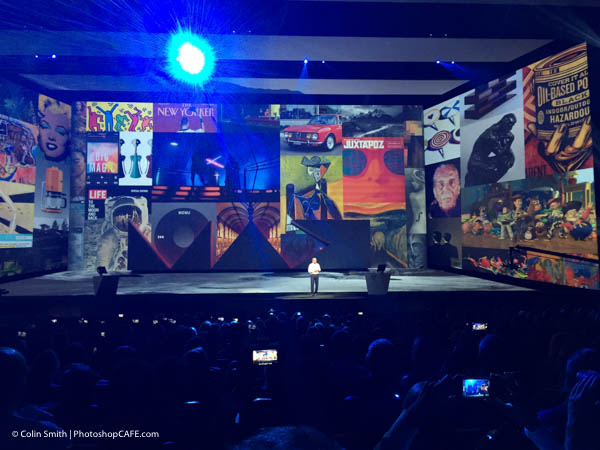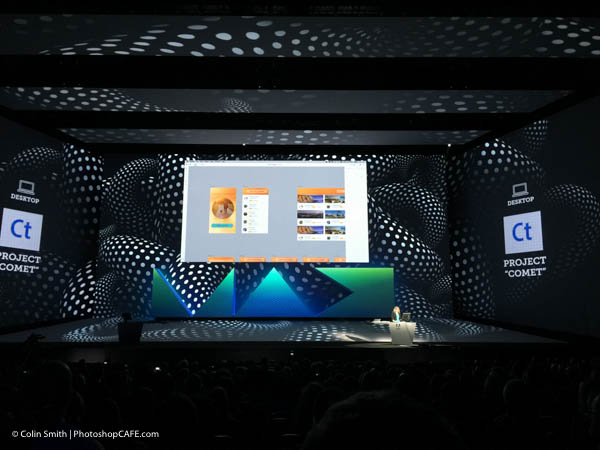 Of course when they close the opening and mention that everyone get's a Fujifilm X-T10 camera for free ($999 value). Yes, all 7,000 of us, you can imagine it gets a bit of an applause. Feels like we are on the Oprah show.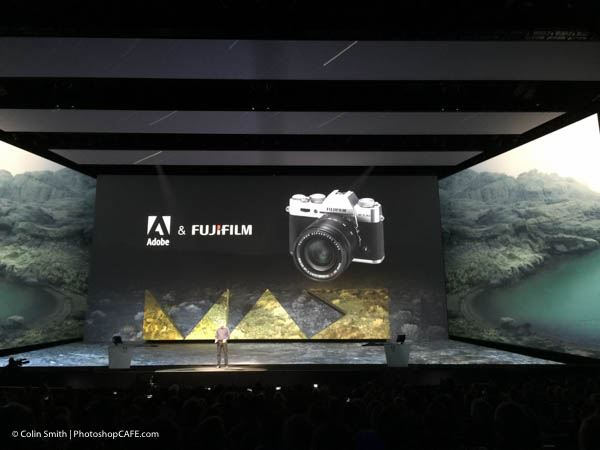 We go back to the convention center and yep, we got our nice fancy camera (Which I happen to love!) It looks all retro like a film camera, but shoots nice 16mp digital.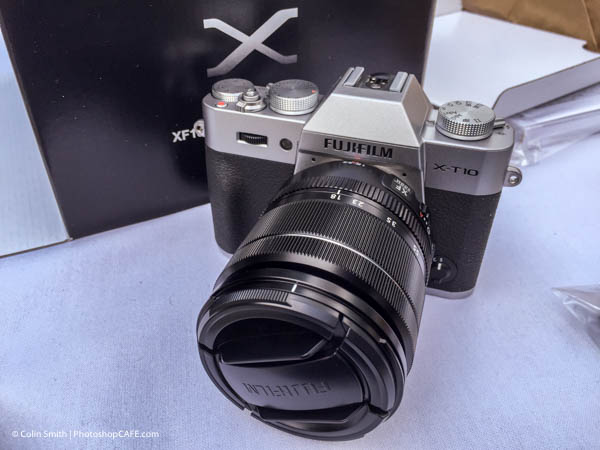 I had to be patient though, as I had a book signing right after the keynote at the MAX bookstore. I got to meet  lots of cool people and sign my Video in Photoshop book, as well as some of my PhotoshopCAFE DVDs. Then I got to claim my new camera 🙂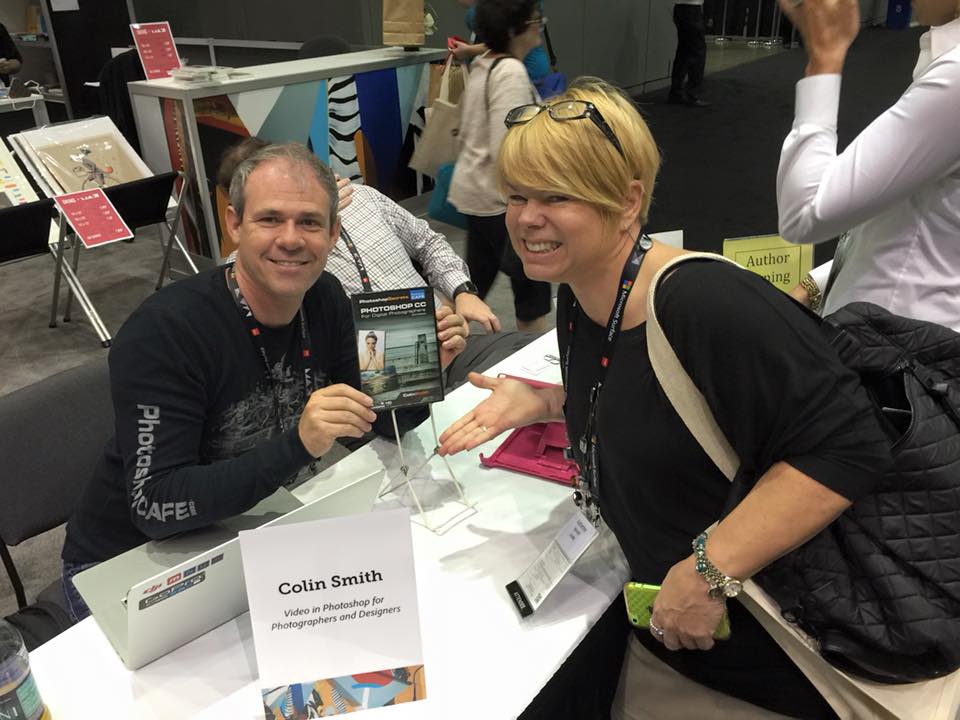 This was my second year as an instructor/Speaker at MAX and was teaching 3 classes.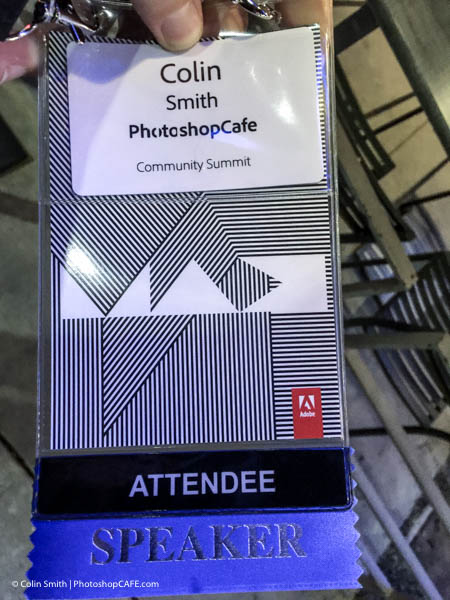 Classes: Hands on and lectures
Classes are held in the LA Convention Center. The Hands on Labs are really big here and draw the most people. There are also regular platform sessions. Here I am with a ton of iMacs right before one of my hands-on labs "Making Movies In Photoshop, non editors guide to video editing in Photoshop". I taught this twice and also did a seminar, "Photoshop Goes to the Movies".
Stay tuned, I'm releasing the extended version of this as premium training on PhotoshopCAFE ultra soon!
These classes were well attended, in fact my "Photoshop Goes to the Movies" was sold out weeks in advance and had a waiting list. (Thanks sooo much for those of you who were dedicated enough to get up early and attend that session!!).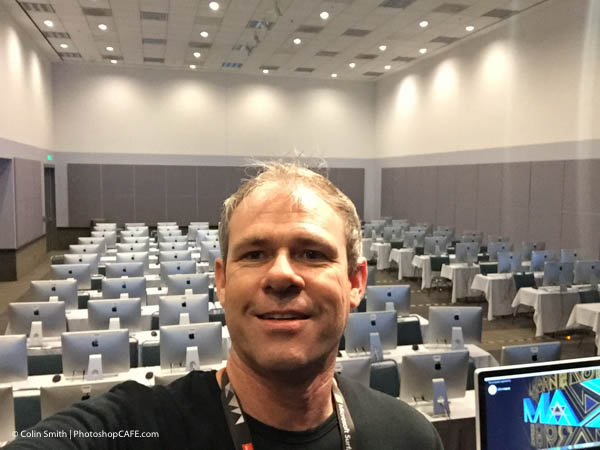 Community Pavilion
The Exhibit floor is something else at MAX. It's invite only for venders, so not just anyone can exhibit on the show floor (no massages and electric snake oil machines). This keeps it fun and entertaining. They were baking art onto tiles, doing a 3D sculpting thing with these weird pens, old style Video games such as Space Invaders and Motion capture timelapse photos that look like something out of the matrix. Here I am at the 25 years of Photoshop Time Machine where they built 4 rooms and each one was set up as an era including the actual machine and version of Photoshop that was shipping at the time. I'm a bit embarrassed to admit, I remember work on all these versions of Photoshop.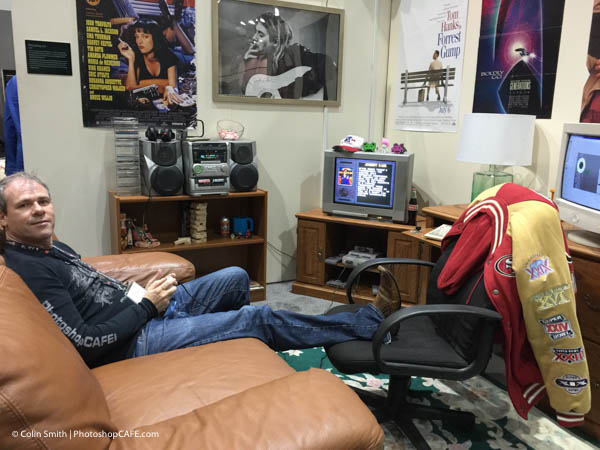 Of course there is always tons of food, ice cream, drinks, candy and popcorn for free on the show floor. You get breakfast and lunch included each day of the 3 days.  You get a massive dinner on the Bash night (more soon) and I did mention ice cream right?
This is also a great place to check out the latest tech. Here I am at the Microsoft booth holding the Brand New Surface book on the day of launch.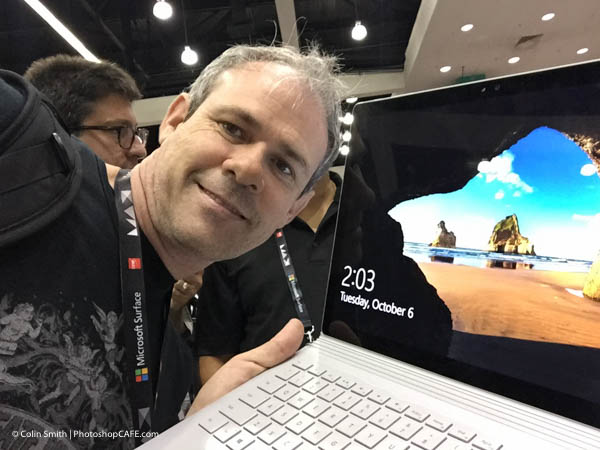 Adobe People everywhere
On the show floor they have a community pavilion where you can meet the Adobe teams and product managers. Hi Guys! (I already know the Photoshop and Lightroom teams very well,  to the point they are probably sick of my face).
But here is a celebrity you may know. Russell Preston Brown as Leonardo DaVinci the time traveller at Adobe Max traveling through the 25 years of Adobe Photoshop! #adobemax2015 That is his official title.
Others may know him as Russell Brown, Principle Create Director of Adobe, or just Doc to his friends.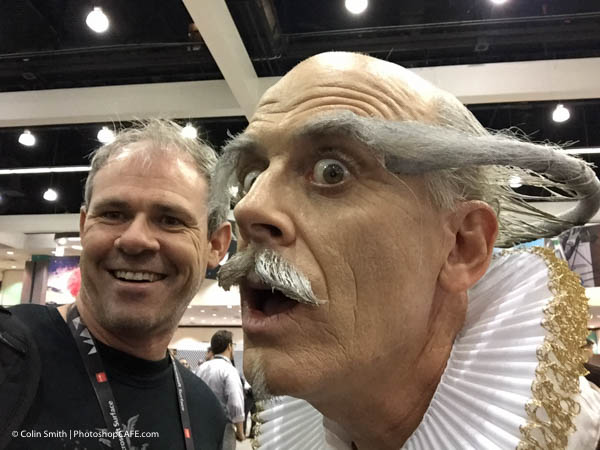 More cool toys
Max is also the place to get invited to exclusive events. Somehow someone (probably mistakenly) put me on the invite list to an Apple Adobe iPad Pro event at the Mixing Room at JW Marriott. Here I am holding the Apple iPad Pro. I got to play with this bad boy and I'm in love. No they didn't give me one. Can't wait until it's available, Ill be getting one for sure. I'm a huge Apple fan from the days before Apple was popular if you don't already know.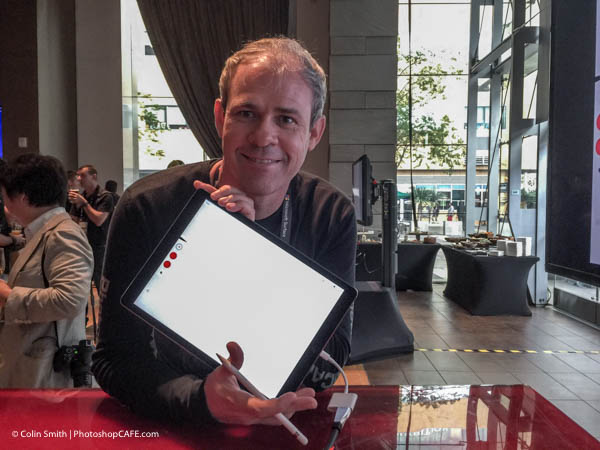 Day 2, Keynotes.
The theme for day 2 is always inspiration. My favorite was Brandon Stanton AKA Humans Of New York. Very inspirational! Then its more classes until..
The Highlight?
So, with all this madness and fun, how can it get any better? A MAX tradition (and favorite)Tuesday night Sneaks! That's how! This is where (after an Open Bar) at the Microsoft Theater we get celebrity hosts and the Adobe engineering teams present the most amazing future ware they are working on that may, or may not make it into a shipping product. You will know some of these as Dehaze and Camera Shake Reduction.
This year's Sneaks host is actor/writer Nick Offerman from NBC's hit comedy series Parks and Recreation. And Kim Chambers Adobe Communications manager and record breaking long distance swimmer from none other than New Zealand! Yeah, go kiwi!!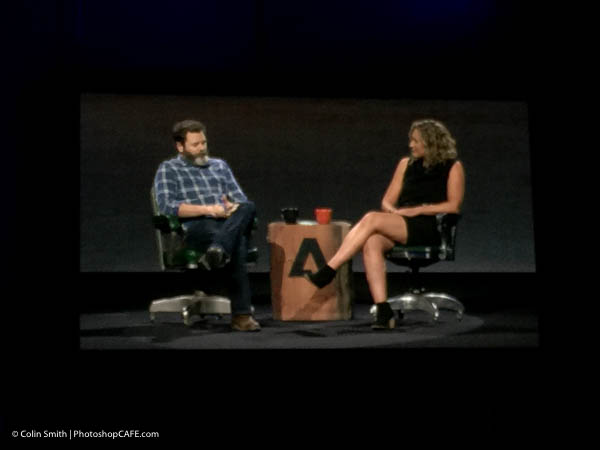 Some of the amazing sneaks were:
Monument Mode: Removes all moving subjects from a photograph to generate a perfect photo without the crowds of people.
Project Face: Lee Brimleow presented a new tool than generates and modifies fonts on the fly. Amazing!
3D Portraits: Take a a photo of a face and watch Photoshop build a 3D model by itself and then print it in 3D. This happened!
Louper: Imagine image recognition searching for similar photos across the web? It's like ai, Amazing!
Bye bye photobombs. Photoshop automagically removing distractions for a photo, by moving a slider.
Deep Font: Shazam for fonts. Point your phone at a font and it will tell you what it is.
Maestro Motion: Drag your finder on an iPad to create animated motion
Design with Data: Project Comet, builds instant prototypes with real data, instantly. Did I mention instant?
Audio Retargeting: One of my favs, Drop a 3 minute song onto a minute of video. The song is automatically remixed to the length of the video, but it's cut to match, the music changes based on the video content. Has to be seen to be believed. 
Extract Shading: Photoshop treating color and shadows separately for effortless extractions.
See all sneaks here (After you have finished reading this post ;))
After the sneaks,  Everyone hightails for the exits because….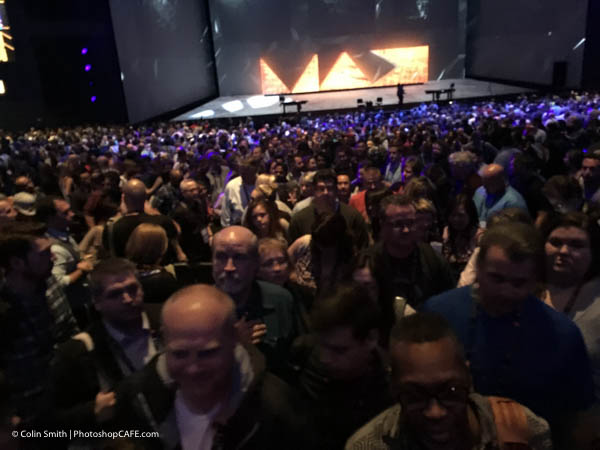 It's party time at LA Live, for the most insane party you will attend at a conference.
We take over LA Live and eat, and eat and drink and watch contortionists and all manner of performers.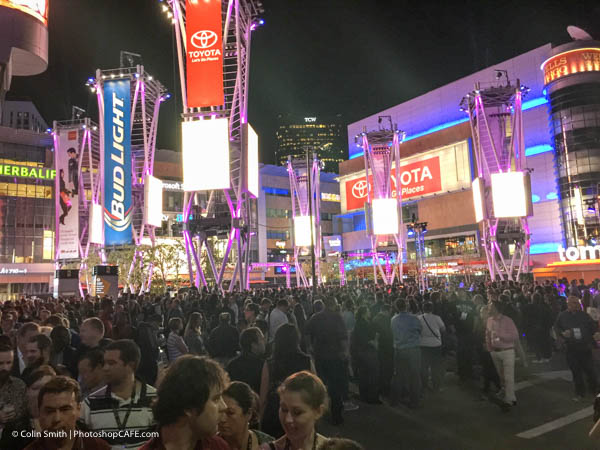 Then the balloons lift up a gate also made of balloons to lead us to another venue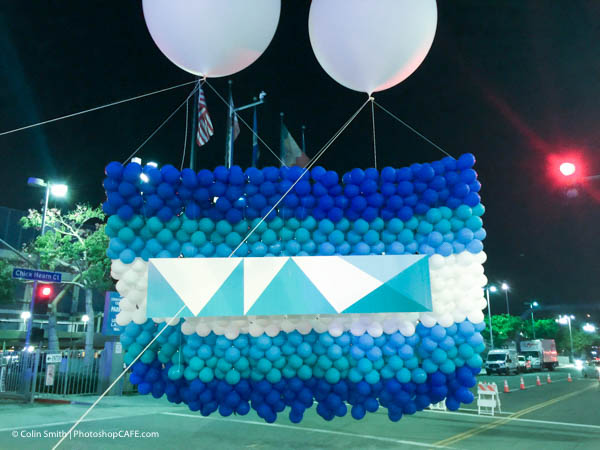 To the deck of LA live, to the deck! Where there is a massive tent, desserts (more drinks) and a concert.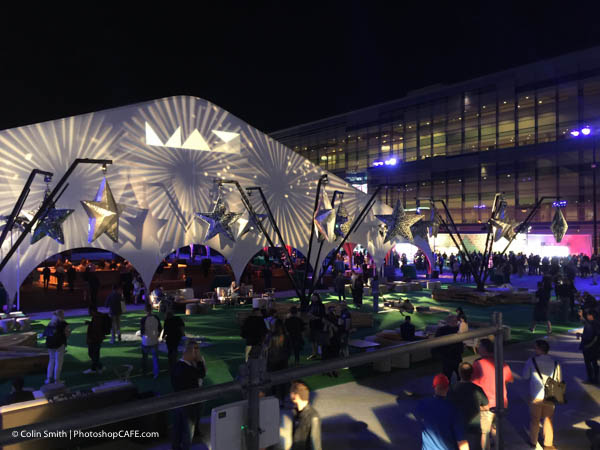 Bu first! The doughnut wall! A wall of real doughnuts. Just grab a "reachy thing" and help yourself to tasty morsels.
There were also liquid nitrogen infused popcorn which makes you look like a smoke breathing dragon and food trucks full of deserts.
Then it's the main event. The Max concert.
This year it featured 2 awesome bands.
First up: Fitz and the Tantrums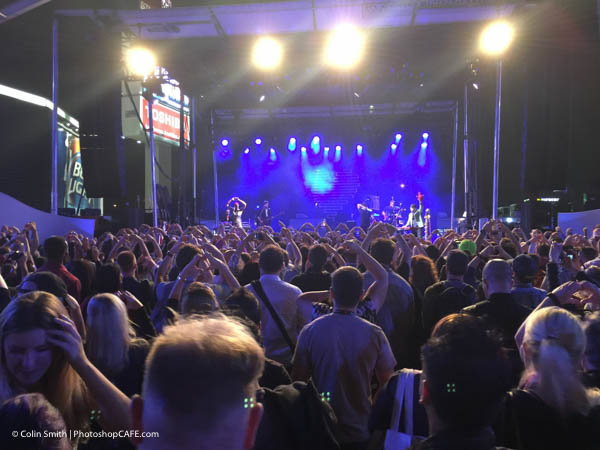 Then Cage the Elephant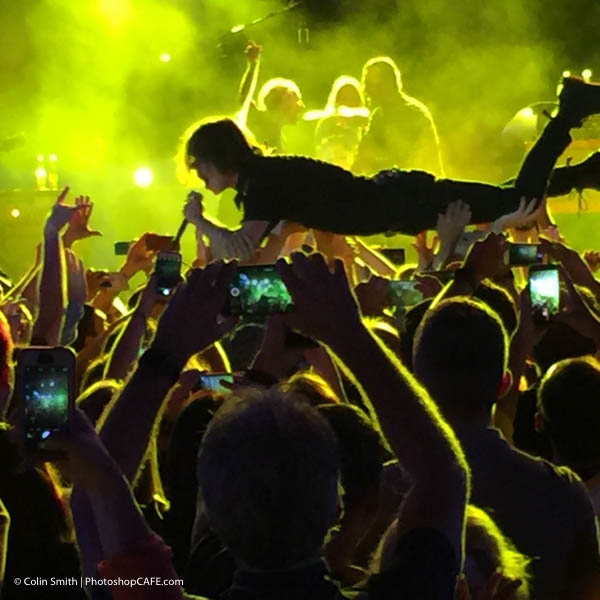 After all this madness and fun we call MAX, what do you do?
Another tradition we have, is breakfast at the Original Pantry Cafe in Downtown LA with a group of friends.  The Pantry has been open since 1923 and has never been closed nor without a customer since then. There aren't even any locks on the doors.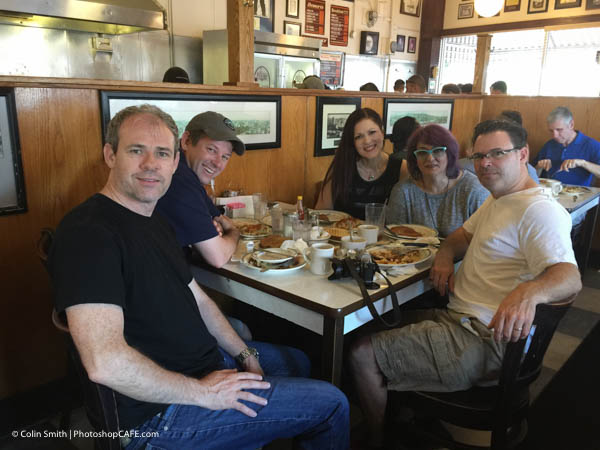 Thanks for reading my account of the amazingly fun event we call Adobe MAX. See you next year in San Diego, where I'll hopefully be presenting again.
P.S. THANK YOU so much for those who attended my sessions and left such nice evaluations and comments. YOU are the reason I do this!