FAQ: Read First
There are a couple of things that have recently come to our attending and they are a result of increased security and "overreaching" precautions from Apple and Google. Many users are aware of these issues, but not everyone.
Apple OS X: "The file is damaged and should be thrown in the trash"
This weirdly worded message or something similar will be displayed if you have the default settings in gatekeeper turned on. This basically rejects everything not purchased through the Apple app store. Very easy to change. 
In Yosemite, Apple made the message a bit more reasonable, and you may see something like this:
East fix: Go to System Preferences and click on Security & Privacy


1. Click the padlock to make changes (It will ask you to enter your password to make the changes).
2. Change to Anywhere. (you can change it back later if you like)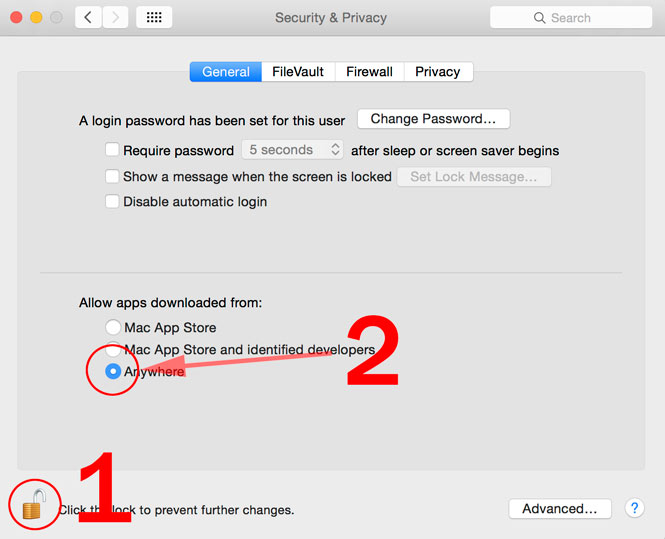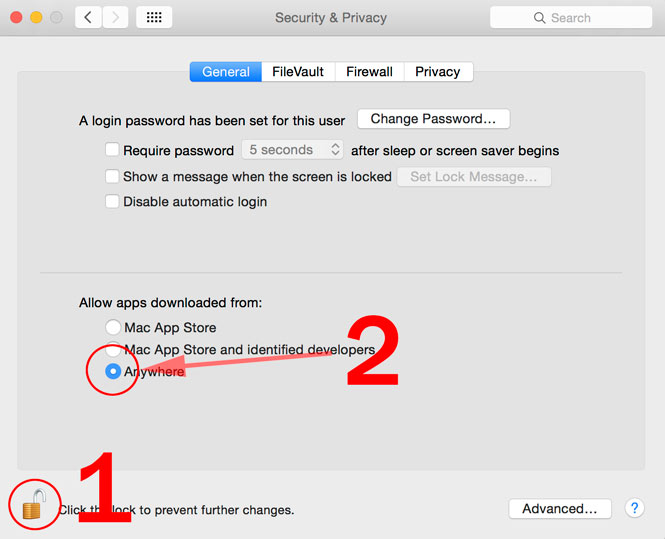 That's it, your problem will be resolved.
Chrome Browser: This file isn't commonly downloaded and is dangerous
This sounds very scary and in fact as you continue it gets to sound even more scary. For some reason a small few (but not most) Chrome users have been getting this message.
Our file is not dangerous. They are hosted  and downloaded on Amazon's secure servers. These are some of the most secure and safe servers in the world.
Solution: Click the little button that says allow. You will get another warning like your computer is about to blow up, talk about overly dramatic. You can safely ignore this bogus warning and everything will work fine for there forward. (We are working on solving this glitch. I would add a screen capture, but I'm unable to reproduce this error message. We aren't the only publishers struggling with this currently, we are verified by Google and secured by Amazon and Geotrust).
Walk Through on installing the PhotoshopCAFE downloads
This tutorial will show you how to install and run the training that you have purchased from PhotoshopCAFE. If you have already downloaded the file, skip to step 5. 
DOWNLOADING
1. If you have an option to Open or save to file, choose the Save to file. This will allow the entire product to be saved to a location on your computer rather than a temporary destination
Click Save
2. A dialog box will appear, choose a destination to save the file. Usually the desktop is a good choice. Take note of the loacation (desktop) and the filename (in this case its waxomw.zip)
3. Click Save
4. The file will now download to your computer, be patient because it is a rather large file and could take a while. Remember – "a watched pot never boils" So this may be a good time to go get a cuppa. It's best not to disturb your computer while it's downloading. (You can perform other functions if you prefer, but try not to use the internet for now as it will slow down the download process).
The file is now downloaded
6. You will see the files on the right, you cannot use these yet because they are still in a compressed folder. Click the task "Extract all files".
7. The extraction Wizard will now open
Click Next
8. Now we will decide where to put the program
Click the browse button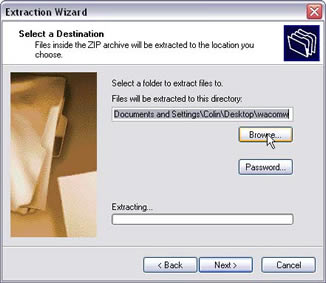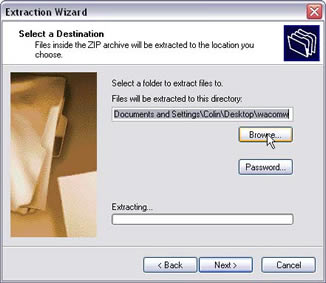 9. Choose a destination by clicking on the file structure on the left, it may be the desktop (You can always move it later)
10. We will want to put this inside it'ss own folder or you will have files all over the place. Click "make new folder"
11. Give your new folder an easily identifiable name. (Note if you have multiple PhotoshopCAFE products, put each one into it's own folder.)
12. Click OK
13. Click Next and the extraction process will begin
Note to Windows Vista Users: Do you have winzip? or Winrar? These are standard programs that everyone uses to open compressed files. You can get free evaluation copies from http://www.rarlab.com/download.htm or winzip.com
The archive utility inside windows doesn't support 3rd party products very well.
14. When the extraction is complete, navigate to the new folder that you created. You should see all your files as shown. (If you don't go back to step 5 and carefully follow the instructions).
15. Double click on the start.exe file to run the training. (On mac run the start file)
Note: It's important that you don't move any of the files around within the structure. If you want to move the product, move the entire folder together. 
Backing up to a CD: Take the entire contents of the folder as shown in Figure 11 and burn to disk. Do not include the parent folder (PhotoshopCAFE in this case) You should be able to run the program from a CD on mac or Windows.