Learning the Hypercreative Method of Design
Sale!
Dramaticly speed up your design process
Design Faster and Better
Successful designer and branding consultant, Ali Sabet discovered that you can create higher quality work at speeds you didn't think possible. He has discovered how you can tap into the creative "zone" quickly and easily. He calls this revolutionary new way of working the "Hypercreative Method." Tap into Hyperflow and you will find that your design skills will improve overnight! Discover the principles that you need, free your mind, and cast aside the things that have been holding you back from reaching your peak potential.
This fast loading DVD ROM contains 1 hour of sharp video. The advanced interface allows the user to instantly jump to any of the lessons with complete control over the playback including full screen. All the lesson files are included, so you can follow along at your own pace!
LESSONS
More From The Author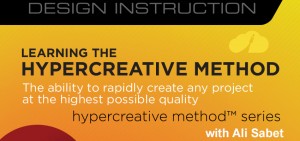 Ali Sabet
38
Ali Sabet (www.sabetbrands.com) is a designer, illustrator, branding consultant and fine artist. He earned his BA from California State University Fullerton. In 1999 he was an Art Director at Foote, Cone and Belding (now DraftFCB). He learned a ton in a short amount of time, mainly that the big agency life wasn't for him. Ali went on to establish Sabet Brands. He has since spear-headed several national branding campaigns and helped sustain hundreds of brands over the past 12 years. He draws for a living and his passion for art is as stong today as it was when he first began. In addition to creating illustrations and logos, Sabet founded the leading online Character community, Mojizu. Ali Sabet has had the pleasure of working with some of the most talented entrepreneurs of our time. The process of working with these amazing people ensures his growth as a consultant and a human being.
STEP BY STEP WALKTHROUGH 
Now includes Full Screen Playback. And works on iPad,iPhone 4 (Earlier iPhones not supported) iTunes and Apple TV!
Interface

Our Easy to use Interface is the best in the Industry

We deliver high quality Photoshop tutorials on digital download and DVD ROM. Most titles can be transferred to iPads, iPhones and mobile devices. The best Photoshop training videos for digital photographer,digital artist, web designers, designer and educator is here.