Brief Biography of Francesco Salvati (eds Dagon Lora),
Illustrator 
Francesco Salviati was born in 1979 in Naples. His passion for visual arts began at the age of 5 years, fascinated by Mickey Mouse, as a prophet surrounded by the apostles, Donald Duck, Goofy, etc… This became a source of inspiration where whole days were spent to recreate the stories and illustrations of his favorite characters.
His first major works were commissioned by a famous designer, Partenopeo, where he created paintings inspired by the theme of Italian Renaissance for high fashion garments. From that moment, Francesco started to work in the fashion industry taking a leap that leads to responsibility and creative collaborations in many known companies as a graphic artist, Creative and Art Director.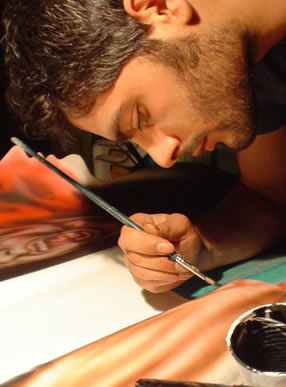 Can you tell us a little bit about yourself, Francesco?  What influenced you growing up and helped get you where you are?
I started drawing at age 5 (at least as far as I can remember) and over the years I have cultivated this passion, with the support of my family is my uncle Michele Salvati, talented painter, to whom I owe my first easel, canvases canvas, oil tubes, jars of acrylic tempera, hair brushes boar, charcoal colored pencils, etc..
That gift was a big boost for me and spurred me on to the arts and new interests.
I studied Graphic Design at the Art Institute of Naples, and after graduation I tried to continue by enrolling all 'Accademia delle Belle Arti in Naples, but, in the end, never attend. Instead, I took alternative routes often away from my artistic pursuits, but have, nonetheless, contributed to a series of encounters and experiences that have impacted my future career.
I started with some collaboration with a local designer, painting scenes of classical paintings on cloth that he used on stage as special effects. Then I specialized in printing techniques by working for several years in several laboratories to create silk-screen prints for clothing. The work I did was much appreciated by customers, very often they asked me to create graphic designs for logos or promotional posters.
What do you love about traditional media?  Can you tell us about some of your favorite techniques?
I have no real preference, nor in the technical side or content of the artistic work … I like to keep changing, and never feel tied to one style in particular. This versatile approach has allowed me to be able to easily change the style based on working and non-working needs. I can gain experiences that have nothing related to each other , to developing a broad and thorough knowledge of the various areas related to graphics. For example, I am currently very interested in digital technology, especially with creating illustrations on the iPhone with Autodesk SketchBook mobile. I do not exclude the possibility of returning to the more traditional painting, maybe down the road perhaps, I decide to dedicate myself to one kind of painting instead of constant change … although, at the moment, I am still too fascinated by all forms not allowing me to absorb one style to use all my life, I try to be interested in all and do my job very well.
What types of interesting projects have you had that really pushed your skills?
Since I have published my illustrations on Flickr, the majority of the comments that I get is precisely regarding this: the diversity of style. My life drawing teacher told me not to think about whether I was a person who liked to experiment, or a person who was indecisive. The truth is that when I draw, I do it on the spot without thinking too much about the what or how. I find it really easy learning with regard to painting techniques, or the use of graphics programs or illustration. My technique varies depending on the inspiration of the moment.
You have a lot of experience with Photoshop and Corel Painter… How do you compare working with traditional drawing and painting compared with digital tools?
There is a huge difference, but, at the same time, as thought there isn't.
The biggest difference is the lack of physical contact with the paint, brushes, the smell of the color, and the minor chances to get dirty, make mistakes and to put a lot more effort to correct the errors made.
The energies used are different … the real painting requires much more effort, and the final result is completely different. A traditional piece is unrepeatable, unique, with its errors, considering the time spent; you cannot use the copy and paste.
If you concentrate on the artistic side of creation, there is no difference. Even the interaction of my hand on the tablet represents a contact, a creation; it's what my hands allow me to create. At the same time the graphics allow me to make small miracles, or "spells" that should not be construed as an aid but as an additional accessory which, at least in part, you cannot show in traditional painting.
What digital painting has more of, it's like a Polaroid, the opportunity to take a snapshot of your artistic vision, and speed visual representation. For me the digital media are an extension of traditional painting, not an alternative.
Can you tell us a little about your digital process?
I search photographic material, or look anywhere else to find references that resemble the idea that I have in mind. In some cases, I shoot photographs relating to the subject that I want to create.
Even when I create logos or something of purely graphic, I always start with the pencil sketch…. Even for my iPhone work.
I choose what inspires me most –the pencil drawing and digitally transpose. I like to always leave a trace of the initial design, is like a memo, a reminder of the original.
The iPhone is a new creative tool for you.  What has it brought to your creative process?  What is it about the iPhone that captures your passion?
It started as a joke, I bought the phone and installed Apps, but did not know you could draw. Initially I found it very difficult to work in this medium, I could not get the standards I was used to, then after several attempts I stopped trying. It was after a few months before I tried again, while I was waiting in the hall of the dentist. I was quite pleased with the result, so after a few days I started trying to figure out how to get my style and standard drawing on a similar medium. Then I developed my own technique can work, despite many difficulties.
When I discovered SketchBook Mobile, it opened up new creative possibilities. I completely fell in love with it, exploiting their potential more seriously. This being such professional software gave me the feeling of a real brush and a potential much higher than what I was using before.
I started to work on it every day.Being able to draw in any place at any time gives me an incredible innovation. Dedicating my free time, and also traveling time, allows me to create these small works by simply moving a finger.
How does it feel to be the featured artist for the SketchBook Pro for iPad release?
I am very excited about the iPad launch, and very anxious to see the new version of SketchBook Pro for iPad. I am hoping to receive an iPad before Comicon. It is a really big honor for me. It is such a big pleasure to know my works are so appreciated, and I am really glad to have had the chance to work with the SketchBook team at Autodesk.
Can you tell us about Comicon Napoli.  You will be having an art exhibit there, can you tell us about what you'll be showing?
At Comicon, I will have an exhibit showing everything I did with Sketchbook. Art created from the beginning all the way to the latest pieces.
The theme of the exhibition will be the "black", so much of the work will be related to this theme.
I will also be exposing other illustrations that I have got a lot of appreciation from the community of Flickr.
One very positive element is the high visibility of Comicon, which allows people like me to present alternative methods of illustration.
The idea was conceived by letmedo.tv. Not only did they come up with the concept, they are organizing the exhibit which will run from April 30 to May 2 at the Castel Sant 'Elmo Venue.
Basically I think this is the future: to have a device so small to create anytime, anywhere. It is a great innovation, and there is growing interest for exhibitions and events dedicated to this new media. It was a big surprise to discover that Comicon designated an area at the show to represent this new concept of making art.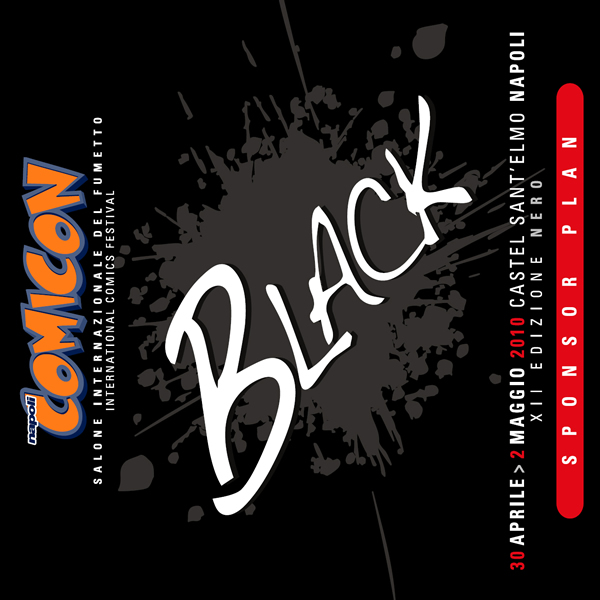 What's coming next for Francesco Salvati?  Any interesting projects or plans?
I am currently working on a series of projects that allow me to detach myself from the fashion industry… the one which I have devoted my last ten working years. As I continue to grow, I realized that my creativity in this area is very limited.
My goal for the future is to be able to get into animation and 3D modeling, working in the field of animation for entertainment. I'm trying to learn the best techniques and software. I hope in future to realize the dream of working on a large animation or music video created entirely in 3D.