Premium Tutorials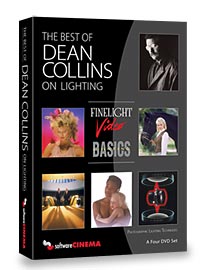 The Best of Dean Collins on Lighting DVD set features the late Dean Collins, one of the most celebrated educators of lighting and camera techniques in the industry. This DVD set teaches lighting and composition with easy to understand techniques created by the grand master of professional photography. It's about timeless concepts that impact the quality of the final photograph, whether captured on film or by digital. Over 6 hours of training on four DVD video discs. This program is a digital remix of the original Dean Collins Lighting Videos.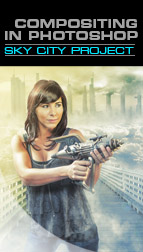 If you have ever wanted to learn about working with layers, masks and compositing in Photoshop, this is what you are looking for. In this video training, you are going to follow along, step-by-step as Colin builds a real-world compositing project with you. The great thing about a project is that nothing is skipped in the workflow. This is where you put together everything that you have learned about Photoshop.
You will learn how to combine different photos together to create a piece of art in Photoshop. You will learn different ways of extracting photos from the background and how to seamlessly blend them all together. You will learn how to add atmosphere, and cinematic coloring and implied lighting.
We begin by combining photos to build up the background plate. You will do some very basic painting techniques to add a personal touch (anyone can do it with the supplied brushes). We will then retouch and extract the model from her background. Finally we place the model into the scene and add sharpening and a color look to complete the piece.
Throughout this fast-paced training you will learn tons of techniques, tips and secrets to get the work done quickly and easily with pro level results. This is the stuff that you can actually use whenever you are in Photoshop. For Photoshop CC and Photoshop CS6 (Works on earlier versions too, although not all features will be available but you can still accomplish the same results)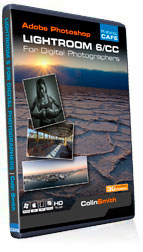 THE award-winning A-Z guide to using Lightroom (2x PPA Hot One Award winner). One of the most-loved training resources is new for Lightroom 6 and Lightroom CC! Learn all the new features and workflows. No matter your level, you can quickly master Lightroom 6 with effortless ease.
This is the most comprehensive video on the market for Lightroom. This 6th edition is recorded in beautiful HD from the ground-up for Lightroom 6/CC. Learn how to import, organize, develop and output all your captures with effortless ease. Enjoy in-depth coverage, pro techniques, secret tips and Colin's way of breaking down even the most complex tasks into quick and easy to understand techniques. You'll spend less time in front of the computer and more time behind the camera!
If you are new to Digital Photography,an old-hand or someone looking to learn the "correct" way of doing things, look no further. Watch over Colin's shoulder as he demystifies Lightroom. You'll learn all the shortcuts, tips and tricks from a true expert. Do you ever get frustrated with tutorials that don't work in the real world? In many cases Colin shows you multiple methods so that you can choose the one that's best for your photo. This is not like other training videos. The techniques aren't from a classroom bubble. This is what works today in the real-world. There are no monotone presentations with boring uninspiring images. You'll learn tons, you'll have fun and most of all you'll be inspired. See why millions of people are passionate about PhotoshopCAFE training. (30,000,000 to date).
This complete training course contains 13 hours of crisp video! The newly updated interface allows you to instantly jump to any of the 122 lessons with complete control over the playback. If you take photos: Beginner to professional, this is the disk you have been waiting for. You'll not only learn the HOWS, you'll understand the WHYS! Included: Sample Catalog with Excercise files.
Special Bonus: 30 Lightroom 6 Presets included!