The Landscape Photographers Guide to Magic Light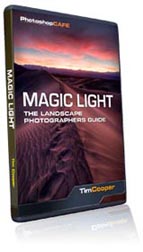 Covers Everything from Shooting, using on-camera filters, understanding light, and extra shooting tips. Also covers some basic post production, photo fusion and HDR techniques for landscape photography.
Magic light. Sweet light. Sunset and sunrise.
This famed light goes by many names but is known to all landscape photographers as on of the best time to make images. This warm light is soft enough to lower contrast but directional enough to define the landscape. Join Tim Cooper as he explains exactly how to use this light to make stunning and dynamic photographs of the natural world.
This video begins with a study of the aspects of light that pertain to photographers- angle, quality, and color. Tim demonstrates how light affects our images at different times of day and under various atmospheric conditions. Making great landscape photos will often require a little planning so Tim explains the differences between Civil Twilight, Nautical Twilight, Sunrise and Sunset so that you can be in the right location at exactly the right time.
Understanding the light is only half the battle though. To create dramatic imagery you must understand how to compose and expose for this tricky light. "The Landscape Photographers Guide to Magic Light" outlines a host of considerations, tips and tricks from using filters to getting correct exposures that will help you bring home dramatic photographs.
The video finishes with an in-depth explanation of how to fine tune your images on the computer. Using Photoshop and Lightroom Tim fully explains the developing tools so that you can maximize the impact of your imagery. He also demonstrates his techniques for blending high contrast images together using the HDR software Photomatix.
Watch a sample from this video on filters.
Explanation of Magic Light
Components of Magic Light
Understanding the different Twilight times
How to plan for your shots
Preferred Camera settings for Landscape Photography
Camera techniques for working in the field
Exposing for single exposure images
Exposing for HDR imagery
Landscape composition
Using Flash to enhance a foreground element
Sunrise and sunset tips and tricks
Using Split Neutral Density filters in the field
Developing your Raw image in Photoshop and Lightroom
Recreating a Split Neutral Density filter in Photoshop
Blending images together using Photoshop
Using PhotoMatix to create HDR images