DJI Phantom Quadcopter Drones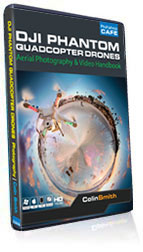 DJI Phantom Quadcopter Drones Tutorial DVD – Aerial Photography & Video Handbook Training DVD by Colin Smith
Photography and videography have been revolutionized by the use of UAV Drones.
The DJI Phantom Series is by far the most popular civilian drone and is revolutionizing an exciting new industry. These little quadcopters are affordable and easy to fly.
In this fully comprehensive guide, Colin Smith coaches you through everything you need to know to fly precisely and safely. Learn Quadcopter basics and exercises designed to help you become a better pilot. In studio and on-location lessons will get you there in a clear and easy to understand way with stunning HD video.
Learn how to fly correctly and shoot the best video and photographs. Learn how to edit photos, panoramas, HDR and video for the best results. Learn to work in Photoshop, Premiere Pro and GoPro studio, even if you have never edited video before.
This Features Phantoms 1 and 2 (Vision +) Quadcopters.
Check out the version for Phantom 3 and Inspire 1 here