DJI Phantom Quadcopter Drones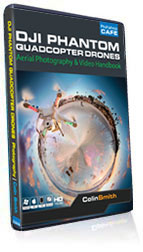 DJI Phantom Quadcopter Drones Tutorial DVD – Aerial Photography & Video Handbook Training DVD by Colin Smith
Photography and videography have been revolutionized by the use of UAV Drones.
The DJI Phantom Series is by far the most popular civilian drone and is revolutionizing an exciting new industry. These little quadcopters are affordable and easy to fly.
In this fully comprehensive guide, Colin Smith coaches you through everything you need to know to fly precisely and safely. Learn Quadcopter basics and exercises designed to help you become a better pilot. In studio and on-location lessons will get you there in a clear and easy to understand way with stunning HD video.
Learn how to fly correctly and shoot the best video and photographs. Learn how to edit photos, panoramas, HDR and video for the best results. Learn to work in Photoshop, Premiere Pro and GoPro studio, even if you have never edited video before.
This Features Phantoms 1 and 2 (Vision +) Quadcopters.
Check out the version for Phantom 3 and Inspire 1 here
Introduction and overview
A glimpse of what is in store for you on this epic video training manuel- Colin welcomes you.

The DJI Phantom Lineup
A look at the DJI Phantom line of quadcopters. The differences between the different models. Which is best for you?

Quick Start Guide
No fuss, from the box to flight, the bare essentials to get flying ASAP

Batteries
The care and feeding of batteries. How to safely use the batteries, very important safety information

Propellers Assembly
How to attach and change props. Self tightening and regular.

Propeller Guard Assembly
How to mount prop guards and why do you need them?

Camera Mounts
How to attach and detach camera platforms. How to install bushes

GoPro Attachment
How to attach a GoPro to the DJI Phantoms

Micro SD Cards
How to install Micro SD cards and which ones to get

Hard-Shell Case
How Colin likes to transport his Quadcopters

DJI Assistant Software
Update firmware and software calibration

Connecting Vision App
Connecting your mobile device to your Phantom vision camera for FPV (First Person View)

Renaming Phantom Wifi
Learn how to rename your copter.

DJI Vision App overview
The free app for iOS and android, tutorial on the apps features and use

Using DJI Phone App
Flying with the app, telemetry, radar, and shooting controls, Panorama and HDR

FPV Goggles
Using the Epson Moverio see-through goggles

Safety Briefing
Fly safely and responsibly and no one gets hurt

Flight Control
How to control the Phantom Quadcopter, how it flies

Satellites and Calibration
Calibrating your Quadcopter and using satellites for stability and marking your home base

First Flight Exercise
Your first controlled flight and a very basic exercise to get the feel for your new quadcopter

Square Exercise
Two exercises to help you get the feel for flying in straight lies and for basic copter orientation

Circle Flying Exercise
How to fly in circles and camera orientation, Two exercises for you to practice

Figure 8 Exercise
Two advanced flying exercises, learn to control your copter and to control the camera with precision

Recovering From a Crash
It's not the end of the world if you crash

Return to Home
Using the built in return to home failsafe

Enabling IOC Flying Mode
Use the Intelligent Orientation Controls (The switches on your controller) for different ways to fly

IOC Flying Modes
Attitude, GPS, Course Lock and Home Lock demonstrated

IOC Shooting Tricks
Using Course Lock and Home lock to get different types of shots

Course Lock
Fully Automated Robotic Flight

Flying on Location at Beach
On location at the beach, we go for a fly and see what we can see. Shoot some video and photos

Aerial Panorama at Beach
How to shoot a panorama on location

Car Chase
How to shoot while following a moving object, on location

Aerial Camera Moves
Some different cinematic camera moves. Simulating dollies and cranes. An on location sports car shoot

DNG vs. jpg
What is the best format to shoot photos on your Vision camera?

Enhancing Aerial Photos in Photoshop
Getting started in Photoshop with aerial photographs. What most images need

Photo Lens Correction
How to correct the lens distortion with Photoshop

Aerial Panorama
How to create stunning aerial panoramas with your Phantom and Photoshop

Tiny Planets
Have some fun with your panoramas and create tiny planets

HDR Photoshop
How to make a true HDR with your aerial photos to bring out a ton of detail and dynamic range

Using MacPhun Plug-ins
Use Intensify Pro and Tonality pro to bring our texture and details in your aerial images

Pulling Photos from Video
Different ways of extracting still images from video

Video Camera Raw
Use Camera Raw as a powerful video adjustment tool

Color Grading in Photoshop
How to use Photoshop to easily create different cinematic color grading on your videos

Photoshop Video Editing Workflow
Part 1 of 5. Getting video into Photoshop and basic cutting

Photoshop Video: Time
Part 2 of 5 of our project. Change time with slow motion and sped-up time

Photoshop Video Color Grading
Part 3 of 5. Using Photoshop to color grade our project using adjustment layers

Photoshop Video Music
Part 4 of 5 adding sound. Specifically music to set the mood.

Photoshop Video, Tilting and Export
Part 5 of 5. Create titles and overlays. How to export the final video for online and mobile viewing

Premiere Pro video editing
A 30-minute crash-course for Premiere pro for beginners

Stabilize video in Premiere
How to use Premiere pro to stabilize shaky footage

Video Lens Correction
How to fix fish-eye and lens distortion in Premiere Pro

GoPro Studio
A crash-course on using the free GoPro studio software for enhancing and editing video

Russell Brown: Perspective
"Doc" Russell Brown talks about new perspectives quadcopters are offering the photography industry

Russell Brown: Creativity
Creativity is what the game is about now

Russell Brown:Breaking Rules
Learn what Russell Brown has to say about Breaking the rules

Russell Brown: The Future
What Russell thinks the future may hold for Aerial Photography

Russell Brown: Processing Images
Some tips on processing images from one of the world's top pros
Mark Johnson: Custom Modifications
Mark Johnson shows you his crazy contraptions and modifications to make a unique and accessorized flying experience
Romeo Durscher: First Person View
Romeo demos the Epson Moverio FPV goggle system

Romeo Durscher: Travel Tips
Romeo shares some valuable travel advice for your DJI quadcopter

Jeff Foster: Video
Jeff Foster discusses shooting video with quadcopters

Colin Smith: Moving and Positioning Your Copter
Colin discusses creative ways to position your copter to get unique shots

Colin Smith: Portfolio and Travel Tips
Colin opens up his portfolio and discusses some images. Also, traveling advice is discussed

Colin Smith: Video Tips
Colin gives you one last word of advice on shooting stable, high quality video with your Phantom copter

Final Thoughts and Further Resources
Colin gives you some final thoughts and valuable resources.