ROUTE CS6 Photoshop Home Study Course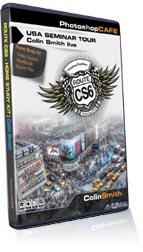 Route CS6, The Home Study Course! (For CS6 and CC)
You missed the PhotoshopCAFE USA tour? You attended, but want to re-live the experience? No problem! We recorded the live event at a packed-house at the Los Angeles Convention Center. From Colin's screen to your screen at home, the CS6 event of the year is coming to you. This exciting release includes all the video, a 170 page digital workbook AND the instructor's files for you to follow along at home. There has never been a learning resource like this before, at any price, but we are making it available to you for only $79.99.
(Videos, 150 page Digital workbook and Colin's source files)
See the tour site
The Author
Colin Smith is founder of the #1 PhotoshopCAFE online community which has received over 20 million visitors.
Colin has Authored/Coauthored 18 books. He has won numerous awards including 3 Guru awards. He's been nominated for the Photoshop Hall of Fame twice. Colin is a regular columnist for Photoshop User Magazine. He's been featured in almost every major imaging magazine, and is in high demand as a speaker at major industry events including Flash Forward and WPPI . He consults such companies as ABC Disney, Apple and Adobe
Get your motor running! Blazing speed – breath-taking quality with Photoshop CS6.
You have asked and we have answered the call. People have been raving about how much they love the training on PhotoshopCAFE (over 30 million served) and the DVDs. You asked if we could bring this same quality of instruction to a live event and the answer is YES! It's taken us a few years to make it all happen, but now, this is it. We heard that people are craving training from an instructor who is more than just a teacher. You demanded someone that has worked in the industry and has a proven track record of producing world class results, that clients actually pay good money for. Colin has been commissioned by companies such as Microsoft, Toyo Tires, Proctor and Gamble, Saatchi and Saatchi, the film and music industries and more. He is going to show you techniques that work in the real world and how to get results that clients will pay money for.
It doesn't matter if your client is a fortune 500 company, an individual or even yourself. This is the tour that will give you the confidence you need to step up to the plate and hit a home run every time. No fluff, this is the real thing.
For one day only, in each city, Colin will roll up his sleeves and take you on an insider's journey through Photoshop, live and in person. It doesn't matter if you're a photographer, designer, are a seasoned pro or a hobbyist, there's something for everyone. You have the opportunity here to not only get a solid grasp of Photoshop, but also get a rare look into the hottest technologies and techniques, all in plain English. Imagine learning what you have always wanted, without the boring technical jargon.
What you will Learn (On the video)
Checking out the road ahead, new in CS6

You have upgraded Photoshop, now upgrade your workflow. Not only will you discover the essential new features, you will learn how to integrate them into your daily Photoshop habits. There are a lot of new features in Photoshop CS6, (One of the biggest upgrades ever) discover the best way to save a ton of time and get unbelievable results.
We will explore the new interface, magical content-aware technologies, perspective crop, amazing lens type blur gallery, adaptive wide angle, GPU accelerated tools, 3D, vector layers, user inspired improvements and much more. Discover all the things you may have been missing. This one hour power session will get you up to speed and introduce you to the features that we will be diving deeper into throughout your action-packed day of discovery, learning and fun.
Under the hood; Layers, Masks and Channels Deep Dive
Unleash the power of Layers, Masks and Channels. This is where you unlock the true power of Photoshop. Here is where we separate you from the competition. First of all, a foundation will be laid that will enable you to clearly understand how these tools work for yourself. You will learn new and fast ways of working under the hood of Photoshop.
This session will get you comfortable using the most powerful tools in Photoshop. You're not going to just learn to use these tools, you will discover workflows you never thought of and love the secret shortcuts and tips that will put you ahead of the pack. This is your key to understanding what's really going on and it will open a window to you that will allow you to work smarter, faster and with much better quality. These are the tools used for cutting out photos, compositing and collaging.
Don't be Road Kill; make your Photographs Rock in Photoshop CS6
Why is it that some people's photographs look crisp, clear and engaging, and others' look flat and boring? It's because of correct post processing from an artist that understands where they are going with their adjustments. Their trained eye looks at the photograph and immediately knows what to do and how much to do. Everyone need to adjust photos, because every photo needs adjustment. The problem is there are so many tools in Photoshop. Which to use?
You are about to become a rock star of image adjustments. You will learn some basic principles that will allow you to instinctively choose the correct adjustment for your image to make it sparkle. You will be immersed in the latest workflows so that you can have confidence that you are working correctly. Working with the right combination of adjustments will enable you to make your photos look beautiful every time. And learning how to use these tools correctly, will shave hours of your post-processing time. Some of the things touched on will be Adjustment Layers, Camera Raw, tone and color correction, HDR and much more.
Video crash course for anyone, easier than you think
It's a game-changer and you can't ignore it! Modern Photographers and designers are EXPECTED to be able to shoot video on their DSLR's. Colin will show you how to use what you already know and reveal the fastest way for you to jump into video. Use the tools you already know and love to create impressive video presentations with effortless ease.
This will be a video crash-course for Photographers (And designers), using photographer's language, not complex video jargon. You will then see how fun and easy it is to work with your video in Photoshop to add different cinematic effects. Learn to cut and edit your video, add music, titles and share on places like Facebook, You Tube, iPhone or DVD.
Photoshop Secrets; 3D and Recipes for the road
We are going to look at 3D in Photoshop. Don't worry, this won't be one of those 3D text extrusion presentations that we have all endured. You will learn how to add the unreal to the real. You will see, step by step, how to integrate a 3D object into a photograph. We will match the lighting (this is a lot of fun) and shadows, to make it look real. You will be hooked when you discover how easy and fun it is to take your imagery to a whole new CG level.
This session will be like dessert at the end of the day. Learn some of the best-kept secrets for amazing image results. Learn the most in-demand techniques that will make your work look current and cutting-edge. Here is where everything comes together and you experience that extra "something" that will elevate your imagery above that of the masses. Special effects, color treatments and other Photoshop Secrets are what this session is all about. These are the kind of techniques that Colin wins awards with, and he is going to share them only with the Route CS6 crew (That's you) .This session will send you on your way with a full tank of creative juice. You will learn some great techniques that will shave hours off the way you have done things in the past as well as opening up a world of creative expression. Don't worry, all these techniques are as practical as they are eye-popping.
What People are saying about Route CS6
Ryan Maesen
I've been going to seminars for the past five days. I learned more in the first hour at Colin's presentation, than I learn in the past four days at the other seminars. Colin knows his stuff and moves quickly and efficiently while showing you some amazing tips that will help you save time and create better looking images and video! Thank you so much for an awesome day!
Jeff Nichols
Everything was great and well organized. All of the content was great and I learned so much. All I could think about at lunch was how long before it starts again and towards the end I didn't want it to end. Great job.
Carlos Benavides
I was really impressed with every one there. From the instructor to the staff. Every one was cordial and very helpful. They went out of there way to help me get situated since i am in a wheel chair and have a caregiver. I will recommend this to any of my friends and if you get a chance to attend any seminar, it would be well worth your time….Carlos
Gary Fleener
This was a very good Workshop. I really enjoyed it.
Bobbi Feasel
Colin did a fantastic job teaching the basics of CS6 and the down and dirty tricks. I really was not interested in the video or the 3D part of the workshop, but I am now. Amazing how much I learned in one day! Thank-you, Bobbi Feasel
Edward Troy
Excellent. A very pleasant way to spend the day. Even worth the drive into LA. That says a lot.
Ronald Yagi
Colin Smith really knows his stuff and really knows how to present it in an interesting and informative way. Great workshop and very enjoyable presentation.
Joseph Montgomery
I was unsure what to expect as this was my first Photoshopcafe event I have attended. Within minutes of the workshop beginning I knew the value of the ticket I had purchased. The instructor was clear and well paced. If ever there was need to slow down, or go back he was always more than eager to do so. The material chosen was fantastic and vast, but still maintained a specificity for the topic being discussed. You may not come away knowing everything discussed but it gives something so important. A glimpse into what you CAN do. Thank you Photoshop Cafe and A huge Thank you to Colin Smith! As humble a master as they come.
Terry Wilkenson
I enjoyed the workshop very much. Looking forward to another workshop that is held in Portland, OR
Frederick Giese
Excellent workshop. Well presented. Learned a lot.
John Barry
I was very happy with everything. By the end of the day, I was a little dizzy with all that I had learned. Perfect thing is, at work today, I am using some of the things I learned yesterday at the workshop. I hope that Colin will return to Phoenix again.
Eric Davison
A very informative seminar. Well worth the time!
jared hassell
Great workshop! Ended to soon.
David Nelson
Fast paced, full of useful information, fun and nice materials
Cheri Moss
I learned so much in the workshop, now it's just a matter of time at home going through everything again.
Patrick O'Keefe
Great workshop. Collin did a great at showing and explaining every step.
Jamie Larson
Great class. Mr Smith covered so many new and enhance parts of Photoshop. I will definitely attend future workshops of his.
Eleanor Goss
It was an excellent workshop. I almost didn't go because Lollapalooza was happening across the street from the workshop and last year there were over 250,000 people attending. Plus the Chicago Bears were also having a family event that same day. I am so glad I braved all the people downtown because it was well worth it. The DVD is such a big help with the video tutorials and the class workshop. I would be looking forward to another workshop in the future.
Dawn Reed
A big thank you to photoshopCAFE and Colin
Pat Crepeau
It was a great shop and really enjoyed it.
danielle skelton
Was a great experience, and Colin was an excellent source of knowledge. Great course!
Helen Russell
This was one of the most well planned presentations I have seen in a long time. I appreciated the fast pace and thoroughness.
Mike Pillows
I was very pleased with this event.
Beverly Barker
Great information. Well worth the price. I'm anxious to sit down now with the DVD to go step by step and learn this. I will certainly tell my friends what a good deal the Route CS6 tour is. And I know I will be visiting the PhotoshopCafe site more often.
robert graham
outstanding!!!!!!
Michael Ambroszewski
Fantastic workshop!
Nancy A Silver
Very nice experience. I learned quite a bit and the program was well paced. I also liked the location that the program was held at very much as it was convenient to get to and there was no parking issues and there were plenty of quick options for lunch, etc. (My winning the grand prize..PS6 extended was the cherry topping the cake! )
Amy Musinsky
Great program. Learned a lot. Learned video that I have never tried before
Jennie Scott
Colin Smith's workshop was fun, interesting and just loaded with useful information for PhotoShop users at any level. I love that there is a CD and workbook to take home so I can go back and spend more time addressing areas most relevant to me.
Dagmar Rogan
Amazing demonstration of the powers of CS6. Collin Smith covered all the glamour parts in great detail. And his enthusiasm. a very enjoyable workshop.
Kate Early
This workshop was excellent! Colin Smith was very personable, very knowledgeable on the subject and organized. I was please with how simple it was to use Fisheye Connect to order tickets and have all the information of the event in the email verification. Overall the workshop meet all my expectations and will be telling others about the event!
Marilyn Hilly
My brain is full! This workshop was well designed, interestingly presented, and it greatly improved my Photoshop skills! Thanks Colin!
Tamyra Ayles
Great presentation!
Angie Baxter
The information and lessons were very informative. The range of topics covered were vast. Colin's knowledge is fantastic, he could not be stumped by any question. I hope to go to more of his classes in the future. I would like more tutorials on making videos and animation in Photoshop.
Natalie Lee
Dear Collin Smith, I really enjoyed your seminar. I know that you just scratch the surface, however the tips and tricks that you shared with us were priceless. It made an impact for me to expand my knowledge base of the use of the software. Thanks so much, may your travels to the other seminars be safe and that you have fun as I did attending your seminar.