Photoshop CS4 / CS5 Video and Animation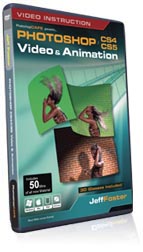 Edit Video, motion graphics, Stereoscopic 3D and more from Photoshop CS4 and CS5 Extended.
A Pro's approach for everyone!
If you are shooting video on a high-end video camera, camcorder, or your new video enabled DSLR, this is one disk that will blow your socks off! Even if you don't shoot video yourself and want to take existing footage to create eye popping motion graphics or special effects, you will be amazed at what Photoshop CS4 and CS5 extended is capable of. You can key green screen, change the speed of video, create 3D extrusions in Repoussé, control depth of field, make stereoscopic 3D (glasses enclosed) and much more.
To unlock these powerful features and tools, you will need an expert coach to walk you through the steps. Best selling author, Jeff Foster not only walks you through the process, but takes the pain away by making it fun and easy to work with video and create motion graphics in Photoshop CS4/CS5 Extended
Welcome to Photoshop CS4 for Video & Animation
Jeff introduces the title with an overview of topics.
Importing Videos & Video Layers
How to import videos and create & manage video layers.
Animated GIF Importing for CS5
A new feature for Photoshop CS5 that lets you import and modify an existing animated GIF file as a Frame Animation.
Photoshop CS5 New Video Features
A quick overview of some of the new video & animation features specific to Photoshop CS5
Timeline & Animation Palette
Overview of the Timeline & Frame Animation palette, tools and menus.
Keyframes & Frame Animations
How to create and adjust keyframes and convert to frame animations
Animation Basics & Layer Styles
Learn tricks in keyframe animation and how to animate layer styles.
Text Animation Concepts
The basics of animating 2D Text layers and animated Warp text.
Video Editing Basics
The basics of editing video clips in the Photoshop CS4 timeline.
Video Transitions
Fades and push transitions demonstrated in the timeline.
Modifying Video and Effects:
Advanced Video Editing & Time Remapping
Learn tricks for editing video and remapping time in the timeline.
Converting to Smart Object Layers
How to convert video layers to smart objects and when to use them.
Smart Filters & Effects
Using Smart Filters on Smart Objects to create interesting effects
Adjustment Layers
Using Adjustment Layers to apply Level and Tone correction with Masks.
Layer & Vector Masks
Use different Masks to control layer affects and visibility.
Green Screen Compositing with Primatte Keyer
Digital Anarchy's Primatte Keyer for Photoshop CS4 is used in a green screen composition (demo software on disk)
Auto-Generate Effects with Clouds Filter
Use the Clouds filter with a custom Action and other effects to create interesting backgrounds and layer effects.
Liquify Video Frames
Use a warp mesh in the Liquify plug-in to create distortions over time.
Advanced Editing & Animation Techniques:
Roto-Clone & Healing on Video Footage
Learn how to clean up old film footage with these great tools!
Rotoscope & Frame Animation with Onion Skinning
Use simple frame-by-frame animation principles with Onion Skinning & Tracing techniques.
Time-Remapping and Speed Control
Learn how to create beautiful Slo-Mo and speed control effects.
Editing Filmstrip Files
Learn how to modify Filmstrip files that can be imported into After Effects CS4.
Creating Cinemascope Video Panoramas
This is a special technique that merges multiple video clips into one super-wide panorama experience
3D Layers, Animation & Stereoscopic Effects:
3D Layers Overview
Covers the basics of creating, converting and importing all forms of 3D Layers.
3D Text Animation
Use 3D Text layers to create more intriguing text animation
3D Star Wars Style Text Scrolling
Create a simple perspective text scroll with a 3D layer in this popular style
Repoussé 3D Extrusion for CS5
A new feature for Photoshop CS5 that creates 3D extrusions from text and layer masks
3D Depth of Field Camera for CS5
A new feature for Photoshop CS5 that gives you simulated DOF effect within the camera settings of a 3D object
3D Video Editing Techniques
Get an extra hand with zooming, panning and rotating video layers in 3D.
3D Shape Layers with Mapping
This creative project demonstrates how material, bumps and gloss maps affect a shape.
3D Glass & Ray Tracing
Create realistic glass with refraction and reflection using Ray Tracing.
Importing 3D Models
Import 3D models from other applications and light/animate them in Photoshop CS4.
Video as 3D Surface & Bump Maps
This creative project shows you how to use video layers to create matching surface material and bump maps.
3D Stereoscopic Projects
Get your 3D glasses ready for this fun overview of the stereoscopic 3D world!
3D Composition Project
Utilizes several of the previous projects & techniques all together in one fun 3D project!
Managing Video Production Workflow
Video Device Previewing
Use a studio monitor, TV or USB Camcorder to preview screenshots directly from Photoshop CS4.
Video Pixel Aspect Ratio (PAR) Previewing & Correction
Covers the basics of PAR correction and why it's important to understand BEFORE you start your projects!
Video Actions
A quick overview of some of the built-in Video Actions in Photoshop CS4.
Exporting Video
Exporting Video
Save for Web & Devices
See how to save PNGs with transparency, GIF animations and Device Central