Lightroom 4 for Digital Photographers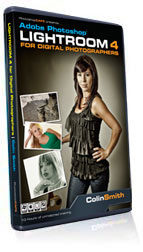 THE award-winning A-Z guide to using Lightroom (PPA Hot One Award winner). One of the most-loved training resources is new for Lightroom 4! Learn all the new features and workflows. No matter your level, you can quickly master Lightroom 4 with effortless ease.
This is the most comprehensive video on the market for Lightroom. Learn how to import, organize, develop and output all your captures with effortless ease. Enjoy in-depth coverage, pro techniques, secret tips and Colin's way of breaking down even the most complex tasks into quick and easy to understand techniques. You'll spend less time in front of the computer and more time behind the camera!
If you are new to Digital Photography,an old-hand or someone looking to learn the "correct" way of doing things, look no further. Watch over Colin's shoulder as he demystifies Lightroom. You'll learn all the shortcuts, tips and tricks from a true expert. Do you ever get frustrated with tutorials that don't work in the real world? In many cases Colin shows you multiple methods so that you can choose the one that's best for your photo. This is not like other training videos. The techniques aren't from a classroom bubble. This is what works today in the real-world. There are no monotone presentations with boring uninspiring images. You'll learn tons, you'll have fun and most of all you'll be inspired. See why millions of people are passionate about PhotoshopCAFE training. (30,000,000 to date).
Getting Started
1. Welcome:
Set up exercise files, import sample catalog
2. Overview:
What is Lightroom?
3. Preferences:
Essential Lightroom Preferences
4. RAW
RAW files explained
5. XMP sidecars
Understand XMP, your key to sharing raw files
6. DNG
What is DNG and how Lightroom can help
7. Importing Locally
Locally Import images from your hard drive
8. Auto Import:
Set up a watch folder to automatically import images
9. Volume Browser
Viewing disks and space remaining
10. Personalize
Create custom Identity Plates and use logos for End Markers
11. Panel Management
Working with the panels efficiently
Viewing
12. Grid View
Working with Grid view, thumbnails and view options
13. Grid Viewing Tip
Tip to view multiple photos in grid view
14. Stacking
Making molehills out of mountains
15. Auto Stacking
Automatically stack photos by capture time
16. Lights Out Mode
Viewing your photos on a virtual light box
17. Loupe
Using the loupe view to get a closer look at images
18. Compare
Comparing images against each other to find the best
19. Survey View
Viewing multiple images at once
20. Understanding Previews
How previews work, make them efficient
21. Dual Monitors
Working on Multiple monitors
Library/Catalog
22. Catalogs
Setting up your Catalogs
23. Upgrading Catalogs
Upgrading Older Catalogs
24. Folders
How to manage and use folders
25. Collections
How collections can save a lot of time
26. Quick Collections
Save time with quick collections
27. Target Collections
A neat way of speeding up organization
28. Smart Collection
Automatically create live collections
29. Exporting catalogs
Export Catalogs from Lightroom
30. Importing Catalogs
Bring catalogs into Lightroom Managing your catalog on multiple computers
31. Optimize Catalogs
Make Lightroom run faster and smoother
32. Backup
Backup catalogs and your images
Metadata
33. Metadata
Understand metadata and apply it to your photos
34. Metadata Templates
Save metadata templates and presets, then re-use them
35. Rating, Flag, Label options
Ratings, flags and labels options
36. Ratings
Rate your photos
37. Flags
Use flags to mark photos
38. Labels
Identify photos with colored labels
39. Filter Bar
Blast through sorting with the new Filter Bar
40. Exchange Metadata
Exchanging info between Lightroom, Bridge and Photoshop
41. Keyword basics
How to use keywords to organize images
42. Keyword sets
Save time with custom keyword sets
43. Suggested Keywords
Use the new Suggested Keyword feature
Tools
44. Time Change
Change the time-zone of your photos
45. Straighten
Straighten crooked photos
46. Cropping
Crop to certain sizes and creatively
47. Redeye
Get rid of the dreaded redeye with ease
48. Cloning and Healing
Get rid of blemishes on your subject
49. Painter tool
Using the painter tool to copy a wide range of settings to multiple photos
50. History
Use history and snapshots to look at versions of your photos
51. White Balance
Setting the correct White Balance
52. Presets
Saving and using Presets
Adjustments
53. Quick Develop
Making quick adjustments in the Library panel
54. Histogram
Histograms explained and used
55. Adjustments Overview
Using the tools in the Basic Adjustments Pane
56. Fix Overexposure
A nice workflow to make a dead photo pop and sizzle
57. Fix Shadow
Understanding and using curves for targeted adjustments
58. Curves
Understanding and using curves for targeted adjustments
59. Color control
Use HSL and color control
60. Add Grain
Go for a film-like grain look
61. Auto Lens Correct
Automatically fix lens distortion
62. Lens Corrections
Manually adjust geometric Distortion on images
63. Chromatic Aberration
Removing color fringes
Advanced Adjustments
64. Adjustments Brush
Dodging and Burning and more
65. Portrait Retouching
Special Considerations for adjusting skin tones
66. Gradient Adjustment
Graduated Neutral Density filter effect
67. Basic Grayscale
A basic Grayscale conversion and special considerations
68. Advanced Grayscale
A look at more advanced grayscale workflow
69. Split tone
Using split-tone on grayscale images
70. Cross Processing
Using Split-tone on color images for a cross-processed effect
71. Noise reduction
Get rid of the noise in a photo
72. Sharpening
Understanding and using the sharpening tools
73. Lens Vignette
Compensating for lens vignette. Add a vignette for a creative feel
Workflows
74. Virtual copies
Understanding Virtual copies and how to use them
75. Edit in Photoshop
Integrate Photoshop with your Lightroom Workflow
76. Photoshop Special Features
Doing special processing with Photoshop and Lightroom
77. Batch processing
Process multiple images at once
78. Syncing
Syncing RAW files with Bridge, Lightroom and Photoshop
79. Exporting Images
Exporting photos out of Lightroom
80. Sync with Flickr
Share files with Social Networks
81. Camera Calibration
What is Camera Calibration?
82. Tethered Shooting
Connect your camera to shoot directly into Lightroom
83. Watermarks
Create Watermarks that can be used in many ways
Video
84.Video Intro
An intro to working with video in Lightroom
85. Video Adjustments
How to apply creative adjustments to videos to create stunning looks
86. Video Export
Getting your video out to the world
Output
87. Email Photo
A Quick Slideshow
88. Impromptu Slideshow
A Quick Slideshow
89. Slideshow starter
Selecting Images for a Slideshow
90. Customize Slideshow
Customize your Slideshows
91. Slideshow Custom Text
Adding custom text to slideshows
92. Music to Slideshows
Add music to your slideshow presentations
93. Export Slideshows
Exporting Slideshows for use on CD or Email
94 .Soft Proof
See what you get before you hit the print button
95. Printing
Printing photos and contact sheets
96. Picture Package
Creating Picture Packages
97. Custom Layouts
Layout pages for books or printing/Exporting
Books
98. Book Overview
Books in Lightroom and getting started with auto layout
99. Adjusting Layouts
Move photos around
100. Adanced Layouts
Changing page layouts and building a book
101. Text in Books
Beautiful typography is within reach
102. Captions and Output
Adding captions and outputting your book
Maps
103. Maps Overview
Geotagging your photos
104. Maps Locations
adding and searching for locations
105. Maps Reverse Geotagging
adding GPS coordinates to ordinary photos
106. Privacy in Maps
Hiding geolocation from your output metadata
Web
107. Web galleries
An overview of web galleries
108. HTML Galleries
Customize the HTML Galleries
109. Flash Galleries
Customize the Flash Galleries
110. Airtight Galleries
Fancy Flash Galleries and how to customize
111. Upload Galleries
Upload your galleries to your website, or export to disk
112. Thanks and Goodbye
113. Uploading this video to the iPad and other Devices