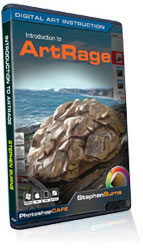 Create realistic Paint effects
Have you ever craved a digital format that accurately replicates realistic paint effects like oils, water color, acrylics and more. ArtRage is the program that everyone is raving about! "Introduction to ArtRage" will train you how to use this popular new digital paint software to create paintings that look like traditional media.
Stephen Burns will quickly make you feel comfortable with the interface and tools within ArtRage. Learn from a passionate artist, who also has the ability to teach. Stephen chooses ArtRage because the oil brushes look and feel like you are painting with oils on canvas. The water color is the best digital water color in the industry. The crayons react like the waxy sticks that we remember using as kids. Custom canvases can be applied as the paints actually react with the texture of the canvas. Every tool is covered. You will understand tool preferences and how to customize them to suit your digital painting needs.
This tutorial also instructs you how to customize a Wacom tablet, this provides a natural paint brush feel through the computer.
Get into Artrage and have a blast!