Learn Dreamweaver – Responsive Design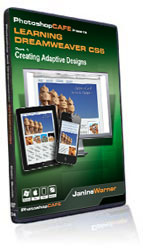 In this 2-hour training video, award-winning author and video host, Janine Warner, introduces you to Dreamweaver's new fluid grid layout features and shows you how to create one, well-crafted HTML file and then use three sets of CSS styles to adapt how that page displays on mobile phones, tablets, and desktop computers.
Whether you're new to web design, or you're looking for a quick introduction to creating adaptive websites, Janine takes you from a blank page in Dreamweaver to a completed design, and provides all of the images and project files so you can follow along every step of the way.
Throughout the course, she shares tips about her favorite features, including how to use Live View to get a better preview of your designs, and how to add text shadows and rounded corners with the CSS Styles panel. From the basics of setting up a site in the new Manage Sites dialog, to the latest in using fancy fonts with the new Font Manager, it's time to learn the latest in web design with Dreamweaver CS6.
The Author
Janine Warner is an award-winning author and video host
Janine is the creator of DigitalFamily.com, a full-service interactive design and training agency that offers web and mobile design and development, content strategy, and internet marketing services. She's written more than 25 books about the Internet, including Web Sites DIY For Dummies, iPhone & iPad Web Design For Dummies, and every edition of Dreamweaver For Dummies. She's also created more than 50 hours of training videos on Dreamweaver and CSS.
Learn more at www.JanineWarner.com, www.DigitalFamily.com, or on Twitter @janinewarner.
Do you ever get frustrated with tutorials that don't work in the real world? Janine doesn't just teach web design, she runs her own digital design agency and brings real-world experience to all of her books and videos. Janine always shares multiple methods for developing sites with Dreamweaver so that you can choose the one that's best for your project, and she keeps things moving with insightful tips, as well as tried and true basic techniques.
You'll learn tons, you'll have fun and most of all you'll be inspired. See why millions of people are passionate about PhotoshopCAFE training. (30,000,000 to date). You can use these techniques with confidence, knowing that this training meets the latest in web standards that produce professional results.
This fast loading DVD ROM contains more than 2 hours of brand new sharp video. The advanced interface allows the user to instantly jump to any of the lessons with complete control over the playback. All the lesson files are included, so you can follow along at your own pace!
If you are a photographer, designer, hobbyist, anyone who wants to learn more about web design, beginner to professional, this Disk is for you!
Learn Dreamweaver CS6: Designing for Multiple Devices
Janine welcomes you and provides an overview of what you'll learn in this course.
1. Designing for Desktop, Mobile, and Tablet Devices
Janine explains how responsive designs work and demonstrates how to create websites that adapt to look good on small mobile phone screens, tablets, and large monitors.
2. Introducing the Dreamweaver CS6 Interface
Discover the newest features in Dreamweaver CS6, set up the interface to best suit your preferences, and make sure you can find all of the features Janine shows off in the rest of the course.
3. Setting up a New Site in Dreamweaver CS6
Set up the sample site featured in this course (you can download the site about Spanish Architect Antonio Gaudi to follow along). In this lesson, you 'll also find instructions on using the FTP and other site publishing features, using the Files panel, and learn how to use the new Site Set Up features to manage all of the websites you work on in Dreamweaver.