Photoshop CS5 for Digital Photographers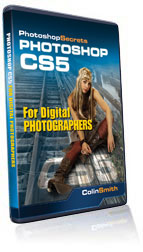 This ground-breaking 5th release of Photoshop Secrets for Digital Photographers, will blow your socks off! Colin has pulled out all the stops. All the workflows have been fine-tuned to take advantage of the new features in Photoshop CS5. Don't just learn the features, integrate the skills into your every day workflow.
Sure, all the new features of CS5 are covered in depth and you will be up to speed in no time. You will learn brand-new, never seen before techniques. But how about this? You will actually understand what you are doing. Unlike many other training courses out there, Colin explains what is happening as well as what to do in his "no nonsense, right to the point" style that has gathered him an impressive following. If you are new to Photoshop, experienced, or someone looking to learn the "correct" way of doing things, look no further. Watch over Colin's shoulder as he demystifies Photoshop CS5. You'll learn all the shortcuts, tips and tricks
Welcome
Welcome from Colin. He tells you what to expect from this training
Import from Camera
Import all your photos directly from a digital camera. Use the Photo Downloader.
Bridge Overview
Take a tour of the new Bridge CS5. Get oriented quickly.
Stacks
Learn how to use stacks to sift through large amounts of photos quickly. Learn about Auto stacking HDR and Panoramas.
Collections and Review
Use Review mode as a quick visual and fun way to sort through tons of images and store them in collections.
Bridge Keywords
Adding Keywords. Setting up searches and tagging all your photos quickly
Batch Rename
Rename your photos in one fell swoop to something that makes sense to a human. Don't rename them one at a time!
Metadata
Understanding metadata and bending it to serve you. (XMP, IPTC, EXIF etc). This stuff is powerful and essential.
Output to PDF
Create Contact sheets and PDF's so you can email them to clients or keep a visual record of your photo libraries.
Output to Web
Quickly create HTML and Flash based web pages to show off your photos. Bridge makes it so easy to create pro looking pages.
Photoshop and Lightroom Integration
The Smart Object workflow. This allows you to easily open photos from Lightroom into Photoshop and edit them in Camera Raw.
Camera Raw Walkthrough
Camera Raw has grown up. Take this feature by feature orientation. Learn how the pros do it.
Noise Reduction in Camera Raw
This tool is so good it's the only way I recommend removing noise for all your images. Remove both luminosity and color noise.
Batch Camera Raw
Want to edit multiple images in one hit in Camera Raw? You'll learn this and how to edit jpg and tiff in Camera Raw.
Camera Raw retouch
Learn to use all the non-destructive retouching tools in Adobe Camera Raw 6. Paint-on adjustments to tone, color and more.
Graduated filter in ACR
Make your skies pop with this Split Neutral Density effect
Targeted Adjustments
Get Creative with Camera Raw. Localized color, tone and grayscale adjustments. You'll be amazed at how easily you can transform your photos into works of art.
Add Grain in Camera RAW
New in CS5 and ACR 6 is the ability to add film-like grain to your jpg, Tiff and RAW images in Camera Raw.
CH3 ADJUSTMENTS IN PHOTOSHOP
Mini Bridge
Most of the functionality is available in a new Mini Bridge panel. Learn what this tool is and how you can use it.
HUD and viewing tips
This video shows you a whole bunch of tips to quickly zoom, navigate, change brush settings, select colors and more. You will love the HUD settings in CS5.
Adjustment Layers and Levels
Quickly change the toning of your photos. Brighten, darken and more. Learn the best way of adjusting images
Shadow/Highlight
Open up shadows and restore highlights in your photos with ease.
Eyedropper
Use the eyedropper and info palette to add luster to dull images. This is one industrial-strength technique for you to add to your arsenal.
Curves Overview
Understand how Curves work. Don't just push buttons and drag things. Understand what your doing. Explained in simple, no nonsense language.
Color correction
A trick to quickly remove the color cast from any photo.
LAB mode
This one's for the really stubborn images. You'll be amazed at the difference this makes to your photos.
Cropping
Quickly prepare you image to print nicely on a targeted size and resolution. Tighten up the composition of your photograph. It's easier than you think with this trick.
Straighten Photos
With a new CS5 feature it's so quick and simple to straighten crooked photos.
Lens correction
Fix barreling, keystones and other lens related problems
Auto Lens correction
You can automatically straighten fisheye photos and more. Photoshop looks at the metadata and fixes common problem by you simply clicking a couple of buttons.
Sharpening
Learn what happens to your photo when you sharpen. Discover two techniques that help you get the best sharpening results.
Smart Sharpen
Learn what happens to your photo when you sharpen. Discover two techniques that help you get the best sharpening results
High Pass sharpening
A non-destructive sharpening technique that's used by the entertainment industry.
CH4 EDITING PHOTOS (cont)
Dodge and Burn
A totally new and improved technique for Dodging and Burning. Welcome to the new School. Get creative and flexible results using this method.
Paint with Light
Use Layer Masks to paint in your image adjustments exactly where you want them
Split ND
Make all your skies look great. How about nice detailed clouds and well lit landscapes instead of blown out skies and dark muddy landscapes?
Masks Primer
Learn about layer masks and how you can use them to work smarter and faster than ever before
Advanced Masking
Learn about the Masks panel. This tool gives you unprecedented control over your masks. You'll be masking like a pro in no time.
Redeye
Get rid of red eye. No more demonic red gazes, just beautiful pupils.
Cloning
Use the new clone source palette. CS5 allows you to do more things with cloning that you can imagine. Demystify it here.
Content Aware Fill
This amazing tool removes shapes from your photographs automatically. You have to see it to believe it.
Content Aware Healing
Use the content aware fill as a brush. Paint away defects.
Healing and patch
Make controlled automatic retouching moves using the Healing and Patch tools.
Content Aware Scale
Resize your photography without resizing everything in it
Weight Reduction
Instant Photoshop weight-loss program. Reshape bodies with effortless ease.
Body Sculpting
Using the new puppet tool you can reshape bodies and even alter poses.
CH6 WORKING WITH MULTIPLE IMAGES
Smart Objects
Understand how to use Smart Objects and Smart Filters. Non-destructive filters are here in Photoshop. Learn all the insider secrets of this new feature.
Panorama
Create a seamless panorama. You'll create a sweeping panorama of the Grand Canyon from 9 photos. Yep, it's safe for you to do this at home.
Vanishing Point
Use Vanishing point. Add a logo to several surfaces, clone, and paint in 3D space.
Remove Backgrounds
Use the truer edge technology to extract while preserving soft edges. Use Quick select and the new refine edge options for crisp and easy cutouts.
Advanced Cutouts
Mask impossible images with color range. This workflow will show you the most accurate way to remove an object from its background. This is advanced masking and it really works.
HDR
Learn about HDR (High Dynamic Range). Produce images with a huge dynamic range where detail is clear in both shadows and highlights. Use the new HDR Pro tool in Photoshop CS5.
HDR DeGhosting
Learn about HDR (High Dynamic Range). Produce images with a huge dynamic range where detail is clear in both shadows and highlights. Use the new HDR Pro tool in Photoshop CS5.
Collaging
Use the Paste into and new Paste Behind in Photoshop CS5 for montaging and collaging.
HDR Toning
Use this new CS5 adjustment to recreate a HDR tone mapped look on a single image.
Pseudo HDR
Try this combination of Adjustments to get that coveted look that everyone is going nuts about.
Black and White looks for Portraits
Tired of the same old Black and whit techniques? Check out this method for quickly creating different looks you can actually use.
Black and White
Turn color images into stunning Black and White beauties. The correct way!
Depth of Field
This technique will add believable depth of field to you images. Create dreamy backgrounds while keeping your main subject crisply in focus.
Soft Glow
Colin has totally revamped this technique; selectively add to soft romantic glow to portraits without any selections. You won't find this amazing technique anywhere else. (Until other people steal it).
Merge Focus
Take a series of photographs with narrow Depth of field and merge them into a single photo that is all in focus.
Photos into paintings
Take a photo and make it look like a paining using the amazing new mixer brush and bristle tips in Photoshop CS5.
Uploading to iPad
Learn how to watch this video on an iPad or other portable device
Good Bye
Parting comments and recommendations for further learning