Logo Design in Adobe Illustrator and Photoshop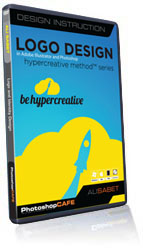 Rapidly Create Corporate Identities
Rapidly create Logos
It's been said that logos and corporate identities are the most difficult things to design. This doesn't have to be the case. Your host, Ali Sabet will show you how you can rapidly create logos and brands with confidence. Once you use Ali's Hypercreative Method of creating logos, you will never be bogged down again in your creative process.
You will learn how to come up with a strong concept and develop it into a final, scalable logo. Discover the process and workflow to create logos that you can sell to your clients or use for your own purposes. The tools used are Adobe Illustrator and Photoshop.
This fast loading DVD ROM contains 1 hour of sharp video. The advanced interface allows the user to instantly jump to any of the lessons with complete control over the playback including full screen. All the lesson files are included, so you can follow along at your own pace!