Learning After Effects CS4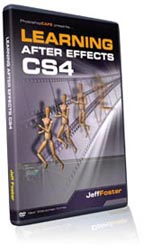 Have you ever seen stunning animations on Movies, TV and DVD and wished you could create these types of motion graphics? You can get started in Motion Graphics today, using the Industry Standard: Adobe After Effects.
Motion Graphics Guru, Jeff Foster quides you through the world of After Effects and Video without using confusing jargon, or overly long-winded explainations. In a Plain English style, Jeff will have you using After Effects in no time at all. His techniques are proven because he has 20 years experience in the field, creating real projects for Studios and clients. Learn all the key features of After Effects including the new ones in CS4!
This fast loading DVD ROM contains over 4.5 hours of brand new sharp video. The advanced interface allows the user to instantly jump to any of the 38 lessons with complete control over the playback. All the lesson files are included, so you can follow along at your own pace!
If you have been wanting to create motion graphics, video editor, designer, hobbiest: this disk is for you!
WELCOME FROM JEFF
Jeff Foster welcomes you to the video
NEW FEATURES 3:19
A brief overview of the new features in After Effects CS4
NAVIGATING THE WORKSPACE 8:27
A tour of the tools and panels inside the After Effects CS4 workspace
IMPORTING TO PROJECTS 3:13
Overview of the Project panel and importing assets to a project
ORGANIZING PROJECTS & XMP METADATA 11:02
Organizing your project panel for optimum workflow efficiency and XMP metadata features explained
CREATING NEW COMPOSITIONS
Creating and setting up a new composition with video aspect sizes
RENDERING MOVIES 5:55
Basics of rendering a movie from your compositions
THE TIMELINE PANEL 14:12
Overview of the Timeline Panel's features and modifying keyframes
WORKING WITH LAYERS 13:41
Animating Photoshop layers and creating compositions as layers
FRAME BLENDING & BLENDING MODES 2:52
Explanation of movie frame blending and how to access layer blending modes
GRAPH EDITOR & BRAINSTORM FEATURE 3:42
Using the Graph Editor in the Timeline panel and a look at the Brainstorm feature
SHAPE LAYERS 9:54
Creating and animating Vector Shape Layers – includes using Bridge to access preset Shape Layer animations
TIME REMAPPING 6:22
Different forms of remapping time in movie layers are explored
ANIMATING LAYER MASKS 10:12
Creating a Layer Mask and animating its properties over the timeline
ALPHA & LUMA MASKS 6:59
Using Alpha Masks and Luminance (Luma) Masks on video and still image layers
PAINT MASKS 3:09
Using the Paint tool on solid layers to create Luma Masks over time
KEYLIGHT FOR GREENSCREEN 6:56
The basics of using the Keylight plugin for chromakey compositing of greenscreen footage
COMPLEX KEYLIGHT COMPOSITING 7:54
Using Keylight for both background (greenscreen) and foreground (bluescreen) elements in a single composition project
CREATING 3D LAYERS 6:41
Converting 2D layers to simple 3D layers and animating them in the Timeline panel
CREATING A 3D CAMERA 11:16
Make a 3D camera and animate it around your scene in 3D space
UNDERSTANDING 3D SPACE 5:39
Creating a simple cube from 3D layers and animating it, while exploring the concepts of X-Y-Z axis and planes
ANIMATING 3D COMPOSITIONS 4:28
Animating the 3D cube and other animation concepts
IMPORTING PHOTOSHOP 3D LAYERS 10:01
Overview of the Photoshop 3D Layers and how they're imported and animated in After Effects CS4
ANIMATING TEXT 6:14
Using the Text Effects presets in Bridge and modifying text animation parameters
CONVERTING TEXT LAYERS TO 3D
Convert Text layers to 3D layers and retain the animated effects
PAINT TOOL ANIMATIONS 7:35
Using the Paint tool and applying Photoshop Layer Styles to create realistic animated effects
CLONE STAMP ROTOSCOPING 4:28
Using the Clone Stamp tool on video footage to do Rotoscoping and object removal
LIQUIFY & PUPPET TOOL ANIMATIONS 12:58
Using the Liquify and Puppet Tool features to animate still image layers with organic fluidity
BLUR, SHARPEN & COLOR CORRECTION FILTERS 16:03
Overview of the different Blur, Sharpen and Color Correction filters and their best uses demonstrated
PARTICLE EFFECTS 9:49
Sample Particle Effects applications from the CC Particle Systems II plugin are covered
FRACTAL EFFECTS 3:18
Creating beautiful animated fractal animations and backgrounds using the Fractal Effects plug-in
CARTOON EFFECTS 4:24
Get the most out of this new plug-in feature with a few tips and tricks
MULTIPLE EFFECTS PROJECT 6:21
Using several plug-in effects to create a professional composition from raw DV footage
MOTION TRACKING WITH AFTER EFFECTS 5:36
Using the built-in Motion Tracker in After Effects CS4 to track and position a layer element into video footage
STABILIZING FOOTAGE WITH AFTER EFFECTS 3:22
Using the built-in Motion tracker in After Effects CS4 to stabilize handheld video footage
AFTER EFFECTS AND MOCHA FOR AE STABILIZATION COMPARISON 7:01
A comparison project between the two Motion Trackers is made with interesting results
MOTION TRACKING & COMPOSTING WITH MOCHA FOR AE 14:48
A complex composition is easily created with the aid of the Mocha for AE software included with After Effects CS4
MOBILE DEVICES PREVIEW 2:09
Using Device Central and After Effects cs4 to create compositions for mobile devices with a new multi-device preview