Photoshop CS2 Type Effects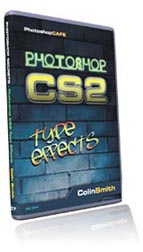 Learn how to create some of the most stunning text effects on the planet! Find the coolest collection of type effects in one place, all explained step-by-step for you to learn quickly and easily. This video picks up where most leave off! You will not only create jaw-dropping text effects, you will also learn how to apply the effects skillfully to almost any surface on any image. From wrapping
type around spheres, cylinders to hugging the contours of vechicles and even rough surfaces, you will master it all. This video is jammed full of insider secrets. Award winning designer and best-selling author, Colin Smith will be your personal coach. You will love his easy to understand, conversational style that will "just make sense". Learning doesn't have to be boring, you will have a lot of fun as you tear through these unique tutorials. This fast loading CD ROM contains over 2 hours of sharp 800 x 600 video. The advanced interface frees you up, instantly jump to any of the lessons with complete control over the playback. All the image files are included, so you can follow along at your own pace! Also included are some fonts and brushes.
Chrome
Create realistic, shiny chrome that you will want to polish
Double Glow
An eerie glow that's starts with color and goes to white, similar to what is used on the X-Files
Graffiti
Tag your images with graffiti so realistic you can smell the paint (fonts included)
Game
An effect similar to what might be used on your favorite video game
Glass
Make your text out of shiny transparent glass
Neon
Turn out the lights and turn on this neon glow
Light Ray
Rays of light shooting out from your text, this one has impact
Grunge
Everyone loves the distressed, scratched and broken looking type (brushes included)
Wood
3D Wooden text so realistic you can smell the sawdust
Fire
Set your type on fire with this cool effect
Segments
Rubbery type with metal skeleton showing through
Engraved
Type engraved into rock, use displacement maps for amazing realism
Type on Path
Create paths and make your type follow the curves
Perspective
Apply your type to a 3 dimensional surface and make it look like part of the original picture
Sphere
Wrap text around spheres and orbs with photo-realism
Cylinder
Wrap your type around cylinders in a realistic way
Warp
Realistically Apply type to a vehicle or any irregular shaped object