PhotoshopCAFE Gift Certificate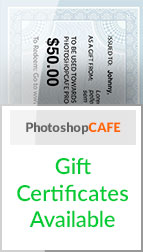 PhotoshopCAFE gift certificate. Enter the desired value.
Oh boy, oh boy!
A lucky person is about receive a gift certificate from you! Just fill out the value you would like the certificate to be. Once you proceed to check out, you will be able to add the recipients name and a message.
You can have it automatically emailed to them, or you can email it, or print it out yourself and insert it in a card 🙂 Lucky person!
Great for family,  friends, special occasions or even employee rewards.
The great thing about a PhotoshopCAFE gift certificate, is that it's good for anything and everything on our site! They never expire and your lucky person get's choose whatever product(s) that they desire!