Digital Photographers CC Complete Kit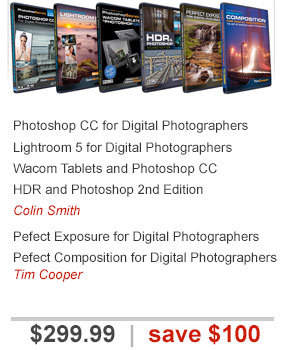 Digital Photographer's Complete Kit Includes Full Versions of:
Photoshop CC For Digital Photographers
Lightroom CC For Digital Photographers
Perfect Exposure (Zone System For Digital Photographers)
Perfect Composition for Digital Photographers
HDR and Photoshop (Second Edition)
Wacom Tablets and Photoshop CC
With this complete collection of training, it's everything that you need to progress your photography and editing to a whole new level. This virtual university is the accumulation of years of knowledge from 3 top industry experts, that you can begin to absorb right now. To celebrate the fact that you are about to invest in yourself in a way that will return dividends for the rest of your life, take $100 off and spend it on a nice dinner when you graduate as a master! The information is here, it's up to you to put it into practice.