This video will show you how to quickly use the new features on photoshopCAFE (This site). Find out what's here and how to find it quickly!
All New PhotoshopCAFE website
New site, new logo, renewed passion! Photoshopcafe launched v5.5 of it's website. A favorite Photoshop tutorial site for over 14 years gets a new face, and a new heart! Discover all the new content and explore the tutorials in a style that suits your personality.
Update (September 14th 2015)
We just launched a complete rebuild of the site. While at first it looks very similar, there are significant improvements. We completely rebuilt it from the ground up:
The speed is dramatically improved. 
The premium videos page is completely redesigned
The responsive (mobile version) works correctly
The search bars all work correctly, with better and focused searches
The authors section works, browse all content by your fav author
We are still working behind the scenes to fix little things here and there.
I want to show you a couple of innovative features here:
Rabbit Hole Learning
Drill-down on Tool or technique
This is completely unique to PhotoshopCAFE. When you are in a tutorial, you will see ingredients (we have had those for a decade). What's new is that you can click on any of the ingredients and you will see a listing of all tutorials with that keyword, such as a tool. This enables you to really go down the rabbit hole and explore and master a particular tool.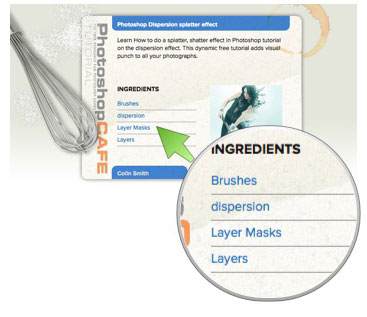 Here we click on the Layer Masks Ingredient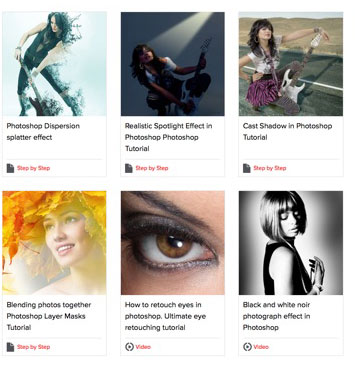 And we get a listing of all tutorials containing that same ingredient.
Browse tutorial by Content type
We have 3 different types of content
Step by Step: Written walk-through of the steps (recipe style)
Video tutorial: Watch and Learn
Article: More detailed information for you to understand a principle
Many of our tutorials include both a proper step by step with screen captures for you to follow long as well as a Video. These are usually a little different. Some things are explained better in written words and others in video.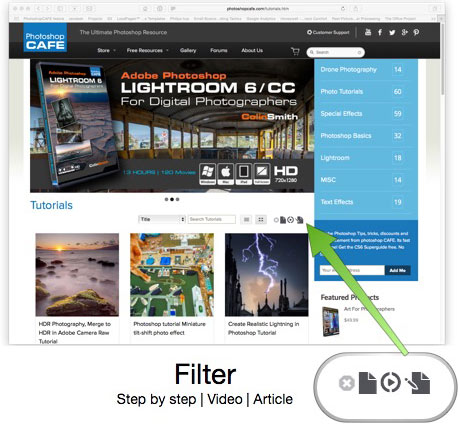 Click on the filter, to only show the type of content that you want.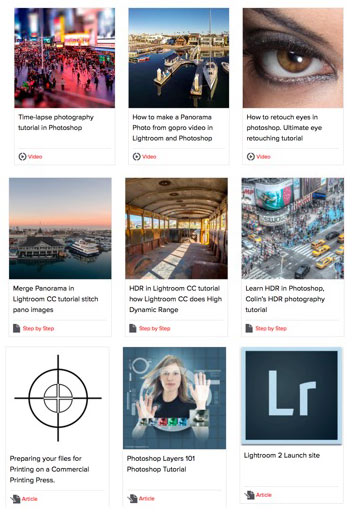 Here, we have the tutorials filtered by type of content
I hope you enjoy all these new innovations, designed to help you find the content you are looking for at PhotoshopCAFE.
Get in-the-know!
Enjoy our tutorials? Join our list to receive more tutorials and tips on Photoshop. Get exclusive tutorials, discounts and the free super guides. No spam, all content, no more than once a week.