Photoshop and Poser Integration
Step by step Walkthrough Even if you have no prior experience, this video will teach you what you need to know to create stunning composition in Photoshop and Poser Pro. This 31/2 hour DVD ROM shows you how to pose a character, import it to photoshop and integrate it into a scene. Combining popular tools, Adobe Photoshop and Smith Micro Poser, you'll learn the workflow that the pros use. In a simple step-by-step, plain English approach, Stephen will show you exactly what you need to know. This one-of-a-kind guide will show you how to create visually appealing and effective professional 3D workflow. Find out how to create stunning artwork, you will also learn how to create an enviroment to integrate your character. This fast loading DVD ROM contains 3.5 hours of sharp wide-screen video. The advanced interface allows the user to instantly jump to any of the 17 lessons with complete control over the playback. All the lesson files are included, so you can follow along at your own pace! If you've ever dreamed of creating artwork and using the powerful 3D features in Photoshop CS4 Extended, this is the video for you!
LESSONS
More From The Author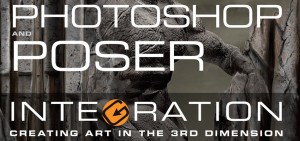 Stephen Burns
18

Stephen Burns (www.chromeallusion.com) has discovered the same passion for the digital medium as he has for photography as an art form. His background began as a photographer 28 year ago and in time, progressed toward the digital medium. He is the author of five books including, Advanced Photoshop CS4Trickery & FX and The Art of Poser & Photoshop and is a corporate instructor and lecturer in the application of digital art and design for the past 14 years. He has been exhibiting digital fine art internationally at galleries such as Durban Art Museum in South Africa, Citizens Gallery in Yokahama, Japan, and CECUT Museum Of Mexico to name a few. Stephen regularly speaks at events like Siggraph and is the president of the San Diego Photoshop Users Group (www.sdphotoshopusrs.com ) of which there are currently 3000 members strong and growing.
STEP BY STEP WALKTHROUGH 
Now includes Full Screen Playback. And works on iPad,iPhone 4 (Earlier iPhones not supported) iTunes and Apple TV!
Interface

Our Easy to use Interface is the best in the Industry

We deliver high quality Photoshop tutorials on digital download and DVD ROM. Most titles can be transferred to iPads, iPhones and mobile devices. The best Photoshop training videos for digital photographer,digital artist, web designers, designer and educator is here.