Animal Painting in Photoshop PhotoshopCAFE Masterclass
Learn the art of painting an animal portrait from scratch Learn from an award winning artist! In these highly informative sessions, Patrick will teach you how to paint a photorealistic animal from scratch. You will learn the entire process, from working with reference photos, setting up the digital canvas, blocking in shapes, adding detail and finishing the painting. Watch how an experienced painter approaches a piece and learn the tips and tools used. Pick up many closely guarded secrets that would otherwise take years to figure out on your own. This video follows the entire painting from a blank canvas, all the way through to the completed masterpiece. Patrick clearly explains exactly what he is doing and why. Watch an original piece of art unfold before your eyes and learn the techniques so you can apply them to any painting that you desire to create yourself. This training is in-depth enough for a budding painter to start learning, or for a more experienced enthusiast to learn some new tricks from a master painter. This fast loading DVD ROM contains 3 hours, 17 minutes of high quality video instruction! The advanced interface allows the user to instantly jump to any of the lessons with complete control over the playback. If you have been looking for some excellent instruction from a real artist, look no further. Watch the entire workflow and become equipped to create your own paintings
LESSONS
More From The Author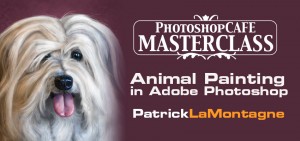 Patrick LaMontagne
8
Patrick LaMontagne is a nationally syndicated editorial cartoonist and illustrator whose work appears regularly in newspapers and magazines across North America, despite having never received any formal art training. He received the Photoshop World Guru Awards for Illustration and Best in Show in the same year. While his illustration work has often been mistaken for traditional media, he has always been a digital artist, and his medium of choice is Photoshop. Patrick lives with his wife, Shonna in Canmore, Alberta, surrounded by the beauty of the Canadian Rockies.
STEP BY STEP WALKTHROUGH 
Now includes Full Screen Playback. And works on iPad,iPhone 4 (Earlier iPhones not supported) iTunes and Apple TV!
Interface

Our Easy to use Interface is the best in the Industry

We deliver high quality Photoshop tutorials on digital download and DVD ROM. Most titles can be transferred to iPads, iPhones and mobile devices. The best Photoshop training videos for digital photographer,digital artist, web designers, designer and educator is here.