HDR and Photoshop (CS5 – CC) SECOND EDITION
Have you ever looked at a stunning HDR image and wondered, "how did they do that?" Wonder no more! This video will serve as your easy to follow and informative guide to the world of HDR. You will be getting results better than you dreamed of with maximum ease. Colin explains in Plain-English all you need to get going in HDR. All new and expanded for Photoshop CS5 and Photomatix 4. When used correctly the 32 bit tools in Photoshop will enable you to create drop-dead gorgeous images with effortless ease. Learn everything from completely natural to jaw-dropping surrealistic looks. You will also learn some clever tricks that will enable you to boost the dynamic punch of Low Dynamic images. You'll be able to supercharge any image with this bag of tricks in your arsenal. HDR (High Dynamic Range) is not just a trend. It's the future of Photography. Get a jump start on the newest Photographic technology with this 4 hour indepth guide and learn why as well as how!
LESSONS
Extending the Dynamic Range of any photograph
Pseudo HDR, Single image Tone mapping
Photomatix Tone Compressor
Using the Photomatix Tone Compressor panel for a natural looking HDR tone map
Photomatix Pro Overview
Overview of Photomatix Pro, which is a stand alone application that allows batch processing and more
More From The Author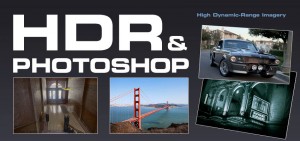 0
Colin Smith
6

Colin Smith is founder of the #1 PhotoshopCAFE online community which has received over 30 million visitors. Colin has Authored/Coauthored 18 books. He has won numerous awards including 3 Guru awards. He's been nominated for the Photoshop Hall of Fame twice. Colin is a regular columnist for Photoshop User Magazine. He's been featured in almost every major imaging magazine, and is in high demand as a speaker at major industry events including Flash Forward and WPPI . He consults such companies as ABC Disney, Apple and Adobe
All new and expanded
All Source files are included with the Download and the Disk. Follow along, step-by-step with the instructor!
STEP BY STEP WALKTHROUGH :: ALL FILES INCLUDED :: Now includes Full Screen Playback. And works on iPad,iPhone 4 (Earlier iPhones not supported) iTunes and Apple TV!
Our Easy to Use Interface is the best in the industry
Now updated with Full screen options!