Photoshop Secrets Wacom Tablets and Photoshop CS5
A "must have" for tablet users. This is the 5th edition of THE best-selling video on Wacom tablets and Photoshop. The most complete training on the Wacom Tablet and Adobe Photoshop ever! This fully updated video will show you how to unleash the power and creativity that only comes from a pressure-sensitive tablet. Set up your tablet correctly and stop working like a mouse user in Photoshop. Two of the Top instructors in the industry combine their talents to bring you a video that will totally change the way you approach graphics on your computer. If you currently own, or are considering a pen tablet or Cintiq™, this video is one of the best investments you can make. Stop mousing around and finally take control of your Wacom Tablet and Photoshop CS5.
LESSONS
More From The Author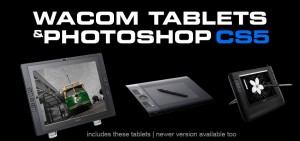 Weston Maggio
19
Weston Maggio, Wacom Technology: As an Adobe certified expert in Photoshop and a Senior Solutions Manager for Wacom Technology, Wes is an authority on Wacom tablets and Photoshop instruction. A passionate trainer and speaker, he has presented at events such as Photoshop World, Siggraph, the HOW Conference and various workshops around the world.
STEP BY STEP WALKTHROUGH 
Now includes Full Screen Playback. And works on iPad,iPhone 4 (Earlier iPhones not supported) iTunes and Apple TV!
Interface

Our Easy to use Interface is the best in the Industry

We deliver high quality Photoshop tutorials on digital download and DVD ROM. Most titles can be transferred to iPads, iPhones and mobile devices. The best Photoshop training videos for digital photographer,digital artist, web designers, designer and educator is here.